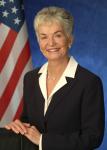 The Clarksville-Montgomery County Voters Council and the National Federation of Independent Business have both endorsed Senator Rosalind Kurita in her State senate re-election bid.
The Clarksville-Montgomery County Voters Council has thrown its support to Senator Rosalind Kurita (D-Clarksville) in the Democratic Primary for Senate District 22. The endorsement was made at a rally held at New Providence Outreach Center. The council is a voter advocacy group focused on minority issues.
"I am honored to receive the endorsement of the Voters Council," Kurita said. "I am and will continue to be a staunch advocate for women, minorities, children and seniors in the state legislature." Senator Kurita is speaker pro tempore of the Senate.
On the heels of that endorsement, the National Federation of Independent Business, Tennessee's leading small business advocacy association, also announced its endorsement of incumbent Rosalind Kurita in Senate District 22. Sen. Kurita has been a strong supporter of the needs of her small business constituents, NFIB/Tennessee State Director Jim Brown said.
"I am honored to have the support of the National Federation of Independent Business. I will do everything I can to pass legislation that encourages small businesses to grow and continue creating jobs." — Sen. Rosalind Kurita
Brown noted Sen. Kurita's co-sponsorship of an important healthcare reform bill, SB 4014, as an example of her outstanding leadership. The legislation, which passed this year, will enable certain small businesses and their employees to join small group health cooperatives to spread risk and obtain better predictability of health insurance rates. Sen. Kurita also voted for regulatory flexibility for small business in 2006, the comprehensive workers' compensation reforms of 2004, and the CoverTN health insurance program that offers an affordable and portable option for certain small businesses.
Kurita is speaker pro tempore of the Senate. She is vice chair of the Senate General Welfare, Health & Human Resources Committee and a member of the following committees: Transportation, Rules, Finance, Ways & Means, Joint Veterans Affairs, Joint Workers' Compensation and Joint Select Oversight Committee on Education. She is a registered nurse.
House District 22 encompasses Cheatham, Houston and Montgomery counties. The primary will be held Thursday, Aug. 7. The general election will be held Nov. 4.
NFIB's endorsement is important for Kurita. Small-business owners and their employees vote in high numbers and are known for actively recruiting friends, family members and acquaintances to go to the polls. NFIB has pledged it will activate its grassroots network on Sen. Kurita's behalf. NFIB's political support is based on the candidate's position and record on small-business issues. Rosalind Kurita's endorsement comes from NFIB/Tennessee SAFE (Save America's Free Enterprise) Trust, the political action committee for NFIB/Tennessee's membership. The endorsement brings the considerable grassroots support of Tennessee's small-business owners to Rosalind Kurita's campaign.