Topic: Health Care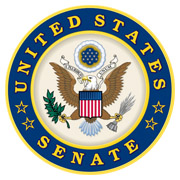 Washington, D.C. – Confucius Institutes provide communist China with leverage to discreetly influence what college students are taught about topics like Hong Kong and Tiananmen Square and impede freedom of speech on campus. We cannot allow students to be brainwashed by revisionist history.
That's why I sent a letter to the U.S. Department of Education (DOE) Secretary Miguel Cardona to push for censorship-free alternatives to support Mandarin language and Chinese culture initiatives in the U.S., including those provided by our democratic partner Taiwan. Read more about the letter here.
«Read the rest of this article»
By Marsha Blackburn
U.S. Senator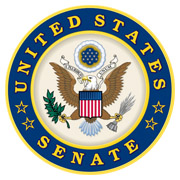 Washington, D.C. – Every parent knows the sinking feeling that hits when your child drops from the monkey bars or when a grandparent can't get up from a fall. For families in rural areas, that sense of worry is immediately followed by the risk of not getting medical care in time.
Through phone calls with friends and virtual meetings, I hear from Tennesseans in rural areas who were struggling to access health care even before the pandemic. It's a grim reality that many Americans have to drive hours through remote areas to find emergency medical care. If they make it in time, they find overcrowded facilities filled with the COVID-19 Coronavirus patients urban hospitals are funneling into rural areas.
«Read the rest of this article»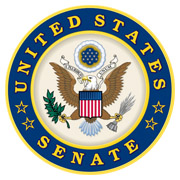 Washington, D.C. – U.S. Senator Marsha Blackburn (R-Tenn.) along with Senators Dick Durbin (D-Ill.), Lisa Murkowski (R-Ala.), and Tina Smith (D-Minn.) introduced the bipartisan Rural America Health Corps Act. Representatives Cheri Bustos (D-Ill.) and David Kustoff (R-Tenn.) introduced companion legislation in the House of Representatives.
"Rural communities often find it challenging to recruit and retain health care practitioners," said Senator Blackburn. "This legislation will create a Rural Health Corps to incentivize providers to practice and plant roots in rural communities."
«Read the rest of this article»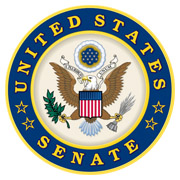 Washington, D.C. – On Sunday, I visited the U.S.-Mexico border in Arizona and met with Sheriff Mark Lamb, Sheriff Mark Dannels, and local ranchers to expose the chaos caused by President Joe Biden's administration's open-border policies.
It is abundantly clear that we are facing not only a humanitarian crisis, but also health and safety crisis. This week, I joined my colleagues in the Senate to close dangerous loopholes in the law by introducing the Stopping Border Surges Act. Until we secure our southern border, every town is a border town, and every state is a border state.
«Read the rest of this article»
Toxic hazards at Karshi-Khanabad Air Base have been linked to hundreds of veteran cancer and chronic illnesses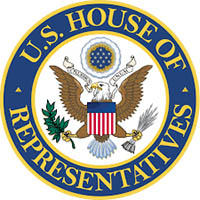 Washington, D.C. – U.S. Representatives Mark Green (R-TN) and Stephen F. Lynch (D-MA) and U.S. Senators Richard Blumenthal (D-CT) and Tammy Baldwin (D-WI) have introduced the bicameral, bipartisan K2 Veterans Care Act.
This legislation would establish a "presumption of service connection" for the veterans who served at Karshi-Khanabad Air Base (K2) in Uzbekistan and who have since been diagnosed with toxic exposure-related illnesses and diseases, requiring the U.S. Department of Veterans Affairs (VA) to provide health care and benefits.
«Read the rest of this article»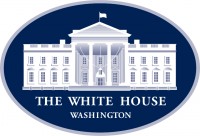 Washington, D.C. – Health care is a right, not a privilege. No one should have to lay awake at night staring at the ceiling wondering what they are going to do to get the care they need or to pay the bills if a family member gets sick.
That is why I will do everything in my power to ensure that all Americans have access to the quality, affordable health care they deserve – and the peace of mind it brings.
«Read the rest of this article»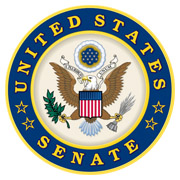 Washington, D.C. – On Tuesday, October 14th, 2020, U.S. Senator Marsha Blackburn (R-Tenn.) questioned Judge Amy Coney Barrett at the Senate Judiciary Committee hearing to consider the Judge's nomination to the Supreme Court.
On the Left's Push to Implement Government-Run Health Care
BLACKBURN: Our friends across the aisle have seemed to express a deep concern about a case that is coming up on November 10th…
«Read the rest of this article»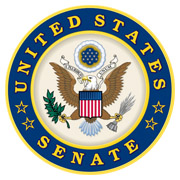 Washington, D.C. – Senator Marsha Blackburn (R-Tenn.) led a bipartisan group of thirty colleagues in raising concerns with Health and Human Services Secretary Alex Azar about changes in reporting requirements, which have the potential to create financial hardships and uncertainty for hospitals across the country, especially those operating in rural areas.
Senators John Barrasso (R-Wyo.), John Boozman (R-Ark.), Richard Burr (R-N.C.), Shelley Moore Capito (R-W.V.), Susan Collins (R-Maine), John Cornyn (R-Texas), Kevin Cramer (R-N.D.), Mike Crapo (R-Idaho), Steve Daines (R-Mont.), Joni Ernst (R-Iowa), Deb Fischer (R-Neb.), Cory Gardner (R-Colo.), Lindsey Graham (R-S.C.), Josh Hawley (R-Mo.), Cindy Hyde-Smith (R-Miss.), James Inhofe (R-Okla.), Kelly Loeffler (R-Ga.), Joe Manchin (R-W.V.), Jerry Moran (R-Kansas), Lisa Murkowski (R-Alaska), David Perdue (R-Ga.), James Risch (R-Idaho), Mike Rounds (R-S.D.), Marco Rubio (R-Fla.), Tim Scott (R-S.C.), Kyrsten Sinema (R-Ariz.), Dan Sullivan (R-Alaska), John Thune (R-S.D.), Thom Tillis (R-N.C.) and Roger Wicker (R-Miss.) are cosigners.
«Read the rest of this article»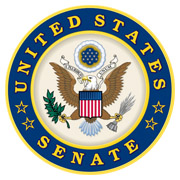 Washington, D.C. – Over the past several months, our lives have taken a remarkably virtual turn.
A high-speed internet connection is now a necessity: offices have shifted to working from home, health care is delivered over video chat, and storefronts have been replaced by virtual marketplaces.
But the reality is millions of rural Americans lack a reliable broadband connection, putting them at an economic disadvantage.
We must close the digital divide, which is why I pushed for Congress to include funding for broadband in our response to COVID-19 Coronavirus.
«Read the rest of this article»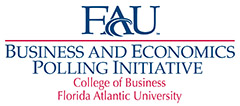 Boca Raton, FL – Presumptive Democratic nominee Joe Biden has pushed ahead of U.S. President Donald Trump in Florida, but Trump still is favored to win re-election, according to a statewide survey of registered Florida voters by the Florida Atlantic University Business and Economics Polling Initiative (FAU BEPI).
Biden polled at 53 percent to Trump's 47 percent, a reversal from the March survey, when Trump narrowly led Biden.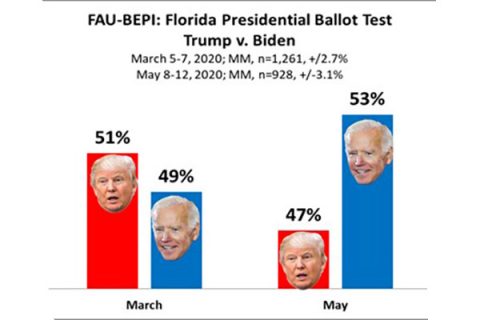 «Read the rest of this article»