Topic: Health Care
Constitutional Carry Legislation Moves Through First House Committee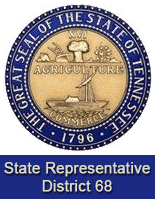 Nashville, TN – This week in Nashville, historic Republican legislation that allows Tennessee to become the 17th state to enact constitutional carry cleared its first committee in the Tennessee House of Representatives.
Members of the House Constitutional Protections & Sentencing Subcommittee approved House Bill 2817 by a 5-2 vote tally Tuesday evening. The measure sends a strong "tough on gun crime" message to violent criminals, felons, and gang members through a series of sentencing enhancements that support our law enforcement and judicial communities as they work to protect our cities and towns.
«Read the rest of this article»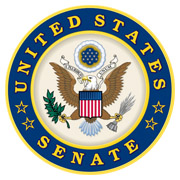 Maryville, TN – Senate health committee Chairman Lamar Alexander (R-Tenn.) today released the following statement after the Donald Trump Administration announced actions to help address diagnostic testing for the COVID-19 (Coronavirus) outbreak:
"The Trump Administration's actions yesterday are the type of leadership needed from the federal government in order for our country to better combat COVID-19. Laboratory developed tests are a crucial part of our health care infrastructure, and emergency use authorizations are the right thing to do in order to better adapt to the threat as we learn more about it. I'm encouraged by these steps taken by HHS and hopeful that more labs follow this example in the coming weeks."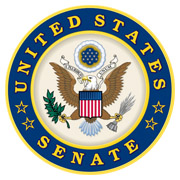 Washington, D.C. – More than 118 rural hospitals have shut their doors in the past ten years, leaving huge gaps in care for communities in need. In Tennessee alone, we've lost eleven rural hospitals and I'm concerned more closures may be on the horizon.
At the National Rural Health Association's annual conference, I discussed my bipartisan Rural Health Agenda, which will expand rural health clinics and rural health departments, attract doctors and other health care professionals to rural areas, and jumpstart the use of telemedicine.
«Read the rest of this article»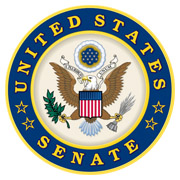 Maryville TN – U.S. Senator Lamar Alexander (R-Tenn.) said members of Congress have worked together to get results for Americans and for Tennesseans.
"I often suggest Tennesseans look at Washington, D.C., as if it were a split-screen television. On one side, you hear about impeachment and tweets, but, on the other side, you have members of Congress working together to get results for Americans. And in 2019, we've done just that."
"Congress passed legislation in December that provides permanent funding – that is fully paid for – for HBCUs and other minority serving institutions attended by over 2 million minority students," Senator Alexander said.
«Read the rest of this article»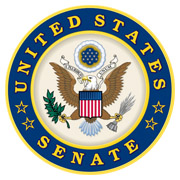 Memphis, TN – Senate Health Committee Chairman Lamar Alexander (R-Tenn.) and House Energy and Commerce Committee Chairman Frank Pallone Jr. (D-N.J.) along with Ranking Member Greg Walden (R-Ore.) yesterday announced they have reached a bipartisan, bicameral agreement on legislation to lower what Americans pay out of pocket for their health care.
"I do not think it is possible to write a bill that has broader agreement than this among Senate and House Democrats and Republicans on Americans' number one financial concern: what they pay out of their own pockets for health care," Senator Alexander said.
«Read the rest of this article»
Chicago, IL – With nearly half of U.S. adults living with high blood pressure, today, the American Medical Association (AMA) and American Heart Association (AHA) announced new survey results emphasizing the need for health care professionals to receive consistent and frequent re-training in measuring blood pressure (BP).
«Read the rest of this article»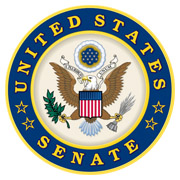 Washington, D.C. – We are forever indebted to our veterans for their sacrifice on behalf of this country.
Their heroism has made the United States a global beacon of hope, and I dedicate my work with the Veterans Affairs and Armed Services Committees to supporting and caring for our best and bravest when they finally return home.
Improving Health Care For Rural Tennesseans: Tennesseans are rightly worried that as rural hospitals close, they will be left without access to health care.
«Read the rest of this article»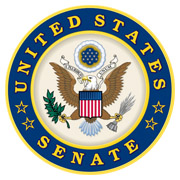 Washington, D.C. – On Wednesday, September 25th, 2019, U.S. Senator Marsha Blackburn (R-Tenn.) spoke on the Senate floor about the House Democrats' impeachment inquiry.
Remarks as Prepared: Thank you, Mister President.
Last night, I had the opportunity to invite 100,000 of my fellow Tennesseans to join a tele-town hall.
The discussion centered on a wide range of topics: nuclear power, gun rights, health care for our veterans, and even an invasive fish species known as the Asian Carp, that is affecting our beautiful rivers.
«Read the rest of this article»

Clarksville, Tn –– City Councilman Richard Garrett, whose 10-year-old son, Trevon, was diagnosed with diabetes and requires daily insulin injections, is inviting citizens to sign an online petition supporting measures to keep insulin affordable for patients and families.
"We are fortunate to have good health insurance to cover the expensive cost of insulin and other diabetic-related supplies, but that's not the case for many Tennesseans," Garrett said.
«Read the rest of this article»
Congressman Marsha Blackburn
7th District of Tennessee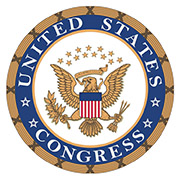 Washington, D.C. – This week, Americans from all walks of life gathered across the nation to celebrate our country and its Independence. Just 242 years ago, patriots throughout America's thirteen original colonies convened at the Second Continental Congress and declared our country's independence from Great Britain.
This unprecedented acknowledgment of our God-given rights through the Declaration of Independence laid the foundation for the great nation we inhabit today; one that guarantees one's right to life, liberty, and the pursuit of happiness.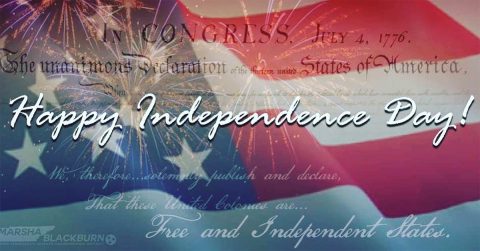 «Read the rest of this article»