The Austin Peay State University Percussion Ensemble will present the 2008 Halloween Concert in two back-to-back performances. The concert, historically a sell-out performance, will be at 6 p.m. and 8 p.m., Thursday, Oct. 30 in the Music/Mass Communication Concert Hall.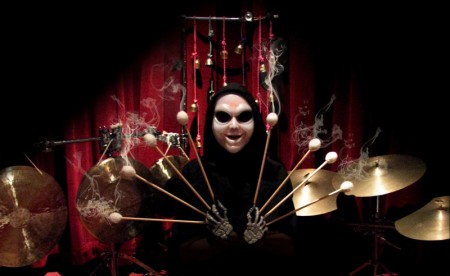 The group performs all kinds of music on all kinds of percussion instruments: classical music such Carmina Burana as used in the movie "Excalibur," rock music such as "Walk Like an Egyptian," music from the movie "Casper" and real percussion ensemble music using instruments from drums, timpani, gongs and cymbals to bells, xylophones, marimbas and chimes. «Read the rest of this article»
In the dark of night 200 American soldiers, members of the Screaming Eagles of Fort Campbell, Kentucky and Clarksville, Tennessee,  returned home from their tour of duty in Iraq.They landed at approximately 1 a.m., but the late hour did not deter either spouses or children from gathering for long awaited reunions with their loved ones.
After hours and hours of travel, the  soldiers put feet to pavement on U.S. soil, but had to wait through formal ceremonies before the hugs, kisses, tears and smiles could happen. Most poignant were the images of soldiers seeing their babies, born while they were in Iraq.  Even after the families gathered, soldiers were separated and required to take part in a "reintegration" briefing before finally heading home. «Read the rest of this article»
Clarksville For Obama in partnership with the Montgomery County Democratic Party will host a Honk for Barack Obama rally on Saturday, November 1, in front of McDonald's at the intersection of Riverside Drive and N. 2nd Street, Clarksville, starting at 10:00a.m.

Bring your Honk for Obama signs (homemade or rally), wear your Obama gear and come and wave to show your support for OBAMA! This will be the final weekend  before the presidential election.
For mroe information, call 931-552-5523.
As I was campaigning for Senator Kurita to educate people about how to vote for a write-in candidate yesterday, it was clear to me that the Democratic party is wasting a lot of time, money, and energy of some of their very best people.  All those loyal Tim Barnes supporters (including many good friends of mine) and all those loyal Rosalind Kurita supporters (including myself) would probably be out campaigning for Barack Obama if this controversial Democrat AGAINST Democrat race had not been instigated by the leadership of the Tennessee Democratic Party.
I believe the PRIMARY job of the Tennessee Democratic Party Leadership is to win seats against REPUBLICANS, not their own party.  They are the ones that need to be scrutinized here.  Who exactly hatched the plot to run a Democrat against another sure-fire winning Democratic incumbent in Senate District 22?  I know about the Wilder vote; this has to run much deeper than that. «Read the rest of this article»