The Austin Peay State University Percussion Ensemble will present the 2008 Halloween Concert in two back-to-back performances. The concert, historically a sell-out performance, will be at 6 p.m. and 8 p.m., Thursday, Oct. 30 in the Music/Mass Communication Concert Hall.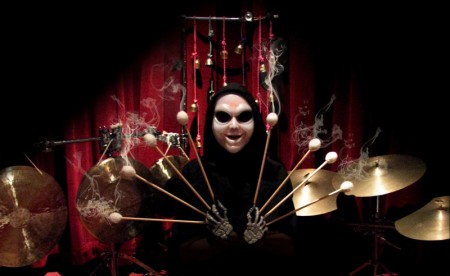 The group performs all kinds of music on all kinds of percussion instruments: classical music such Carmina Burana as used in the movie "Excalibur," rock music such as "Walk Like an Egyptian," music from the movie "Casper" and real percussion ensemble music using instruments from drums, timpani, gongs and cymbals to bells, xylophones, marimbas and chimes.
"We even do some body percussion," said David Steinquest, director of the Halloween Concert and professor of music at APSU. Also, there will be special guests: the University Choir, two new faculty members, Emily Crane on violin and Jeanette Zyko on oboe, two of the composers, and a rock-and-roll electric guitar player, Steinquest said.
The hall will be decorated and all the performers dressed in costume. Special lighting will create a mysterious atmosphere, and the mass communication program will provide live video feed.
Admission is two cans of food, which will be donated to Loaves & Fishes, or $3. Tickets go on sale Monday, Oct. 27 in the department of music office, located in the Music/Mass Communication Building, Room 139.
For more information, call the music department, 221-7818.