An endowment made to Austin Peay State University by Dr. Ernest DeWald will be used to create the Josephine and William DeWald Memorial Scholarship.This scholarship is exclusive for students enrolled in the nursing program at Austin Peay.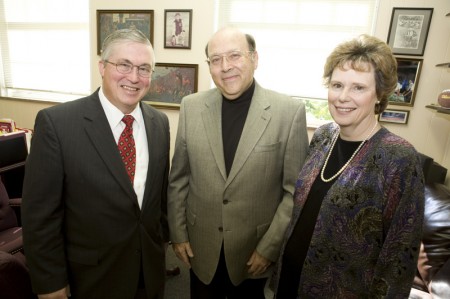 DeWald is a dentist who lives and works in the Clarksville area. DeWald and his wife, Joan, moved to Clarksville as a result of a military assignment in the 1980s.
DeWald's endowment was made in memory of his parents, Josephine and William DeWald. Ernest DeWald's parents were lifelong residence of New York and had extended careers in nursing. Josephine DeWald worked as a nurse for both a private practice and a hospital for 45 years. William DeWald worked as a nurse for Columbia Presbyterian Medical Center and was promoted to an administrative position overseeing the hospital's orderly staff.
Josephine DeWald was diagnosed with terminal cancer shortly after her son moved to Clarksville. To be closer to her family, allowing them to take better care of her, Josephine DeWald also made the move to Clarksville. During this time, the hospice services at Gateway Medical Center made the DeWald family feel welcome by giving them support and comfort during a very difficult time.
In honor of his parents' lifelong careers in nursing and the impact local nurses have had on his family, Ernest DeWald created a scholarship to enable eligible students earn their nursing degrees.
In order to be eligible for the DeWald Scholarship, applicants must have a financial need, be juniors or seniors at APSU, have a grade-point average of 3.3 or greater and maintain full-time enrollment status at APSU.
For more information, contact Christine Booth in the APSU University Advancement Office, (931) 221-7130.