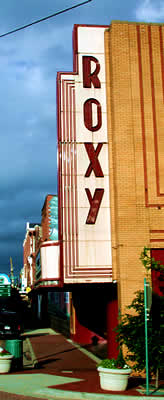 I believe that the "Christmas spirit" is already swirling through Clarksville like plump snowflakes that enhance all that they fall upon with newfound purity and beauty.  This city represents the "melting pot" of America with the same kind of unique diversity that we've all learned about snowflakes.
I've often expressed with celebratory fervor that the Roxy Regional Theatre's presence in our community continues to instill in me every time I absorb one of their excellent professional productions.  They invariably feature universal themes that imbue each audience member with that deep human connection that seems to cry out: "yes, I can feel what that character feels!"  The magic of theatre is consistently revealed in every play, and Artistic Director, John McDonald, expresses that concept brilliantly in the November issue of "Clarksville Family" in this simple declaration about his upcoming adaptation of Dickens' "A Christmas Carol": " . . . a simple tale of love, compassion and redemption . . ."
I've long contended that redemption is inevitable in every moment that love itself is realized.  The Roxy continually manages to portray that very concept in all its shows, even when it depicts the shadow aspect of the love/hate dichotomy.  Its current production, "The Crucible," shows the irredeemable archetypes of human nature when judgment and criticism are dramatized instead of the peaceful practices of loving and accepting everyone as they are now.  Even Tiny Tim voiced that at the end of "A Christmas Carol."  A thousand bravos to the Roxy for keeping the "Christmas spirit" alive in Clarksville all year long.
Editor's Note: The holiday production of A Christmas Carol opens Friday, Nov. 28, and runs through Dec. 20. For details, call 931.645.7699.
About the Author: Kitty Madden is a Reiki Master, APSU graduate, a veteran who still marvels at her good conduct medal from Ft. Campbell, a Friend of Dunbar Cave and a local enthusiast of the arts and nature.  She deliberately chose to make Clarksville home based on a love for the diversity here, especially in nature, as found at Dunbar Cave, Rotary Park and along the two rivers and many lakes in our area.