On December 27, Nicole (NMN) Roberts (W/F), 36 of 912 North D Street, Hamilton, OH,  was charged with aggravated robbery and kidnapping  with a bond of $20,000.
On December 27 at 1:12 a.m., officers responded to an Armed Robbery call at an Academy Avenue address. When officers arrived, a 65 year old male victim told officers, that Roberts came to his residence and requested additional money for a stereo bought from the suspect earlier in the week. The victim refused to give Roberts more money. Roberts then jumped on the victim, causing injuries by beating and clawing him. At that point, Roberts took $165.00 from the victim. «Read the rest of this article»
On December 24 and 26, Sherri Lee Tipton  (W/F), 42, of 324 Kelsey Drive Rd, Clarksville, was charged with 2 Counts of Theft (December 24th) with a bond of $2,000 and 1 Count of Theft and Unlawful Drug Paraphenalia (December 26)  with a bond of $500.
On December 23, Ms. Tipton was observed on camera by security, on two separate occasions, entering the same business in Governor Square Mall, Clarksville,  and taking items valued at approximately $1200.00.  She departed the business without paying before security could apprehend her.  Ms. Tipton entered the same store on December 24, at which time security recognized her as the same individual who had taken items the previous day. «Read the rest of this article»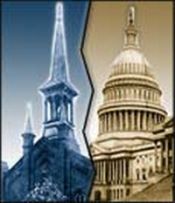 From radioactive clergy to media inquisitions, religion was a hot topic in this year's race to the White House, according to editors of Church and State Magazine.
The role of religion in the presidential campaign tops the 2008 "Top Ten" list of top church-state stories, according to the editors of Church & State. The monthly magazine published by Americans United for Separation of Church and State, is the nation's only news periodical devoted exclusively to the intersection of religion and government.
Said Church & State publisher Barry W. Lynn, "It was a wild and crazy year. To tell you the truth, I'm glad it's coming to a close. I'm hopeful 2009 will be a lot better."
After studying the past 12 months of news, the editors selected the following 10 stories as the most important and most interesting church-state developments for the year. «Read the rest of this article»