Coach Willard Ross Act penalizes wrongful sale or purchase of firearms.
On Monday, March 23rd, the Tennessee House of Representatives voted to pass a bill designed to help keep guns out of the hands of criminals.
"There are plenty of bills up here advocating Tennesseans' Second Amendment rights, but what we must also do is make sure we do everything we can to keep those guns out of the hands of criminals," said Rep. Joe Pitts, D-District 67.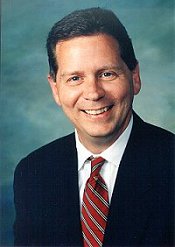 The "Coach Willard Ross Act of 2009," a bill sponsored by Democrat Joe Pitts (D-Clarksville) and co-sponsored by members of both political parties, creates a Class A misdemeanor offense when a person attempts to buy a firearm while prohibited by law from possessing one. The misdemeanor would also apply to a person who attempts to sell or sells a firearm to someone known to be prohibited by law from owning one.
Coach Ross was killed in 2007 when a stray bullet struck Ross during a shootout between two vehicles in a Wal-Mart parking lot in Clarksville. The man convicted of the shooting was able to purchase the gun even though his prior record clearly showed he was prohibited by law from owning a firearm.
"What this bill will do is keep guns in the hands of good, responsible individuals and help keep guns out of the hands of criminals and folks that the law says should not have access to firearms," Pitts said.
The bill passed overwhelmingly by a vote of 91-5-1. Those voting against the measure included  Representatives Joe Carr (R-Murfreesboro), Vance Dennis (R-Savannah), Joshua Evans (R-Greenbrier), and Eric Swafford (R-Pikeville). The legislation must now pass the Senate before it can be signed into law.
Rep. Pitts represents State House Ditrict 67- Clarksville. He may be contacted at: 109 WMB, Nashville, TN 37243-0167; phone: 615-741-2043, Fax: 615-253-0200. Constitutents may request copies of the 106th General Assembly Handbooklet from his office.