Legislation would improve protections for both consumers and dealers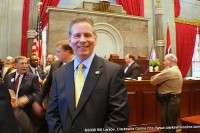 Nashville – This week State Representative Joe Pitts (D-Clarksville) and members of the House Finance, Ways and Means Committee pushed important legislation designed to protect consumers and local car dealers from the recent American automobile industry crisis. The bill has broad bipartisan support and is expected to move swiftly through both the House and Senate.
"While the housing market was a key player in our economy's recent slowdown, the uncertainty of the American automobile industry has played a major role as well," said Pitts. "We must do everything we can to protect consumers and our local car dealers who support their local communities. We must give them the support they need to weather the economic storm."
Under House Bill 1751, specific funds would be protected for the benefit of consumers and local dealers. This legislation ensures monies paid or obligations owed are fulfilled in the event of a manufacturer bankruptcy. Examples include:
Uninterrupted consumer warranty repairs or maintenance
Protecting consumer rights under the Tennessee Lemon Law in the event of a manufacturer bankruptcy
Pay-off of loans on trade-ins and payment of sales taxes, title and registration fees
Ensuring obligations owed to dealers for customer rebates, employee buy-out vouchers, and warranty repair payments are paid
"In the end, businesses cannot survive without delivering on their promises. This legislation will ensure that local car dealers can continue to make good on their promises to the consumer and the big automakers make good on their promises to their local car dealerships," said Pitts.
"Local dealers are continuing to sell cars and take care of their customers. Car sales are what are going to get us through these tough financial times," said Pitts. "We have to protect them and the consumers buying cars for the long-term if we really want to get our economy back on track."