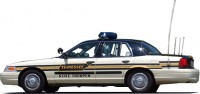 This weekend while most of us were enjoying our first evening of the long Labor Day weekend, the Troopers of Tennessee Highway Patrol were hard at work. In District 3 which covers our area, they were out on Highway 12 conducting a drivers license checkpoint. Being a bit short on officers, just three State Troopers processed over 137 cars looking for people driving without licenses, driving intoxicated, miscellaneous violations, and of course people with outstanding warrants.
Most drivers passed through the hour long checkpoint manned by Sgt Maurice Hobbs and Trooper Curley Jackson without incident, but 13 drivers had issues requiring a closer look by Trooper Wayne Tidwell, who took care of the motorists who were stopped. Out of that came a total of 15 citations:
1 Vehicle Lights
1 Registration
3 Revoked or Suspended Licenses
4 Not having their Driver Licenses
6 Other types (Seatbelt, child restraint, Etc.)
One of the drivers stopped was wanted by the Cheatham county Sheriff Department, and was held for transport.
On this night they did not encounter anyone who was driving under the influence, however during the 2008 Labor Day weekend Tennessee had 10 fatal crashes resulting in 12 deaths. This was a fatality rate of one death per six hours and thirty minutes. Many of these crashes were a result of drivers operating motor vehicles while under the influence of alcohol.
While this story covers only one checkpoint, the Tennessee Highway patrol was busy operating dozens of checkpoints throughout the state during the three day weekend.
Video clip
Photo Gallery