A veteran of the U.S. civilian and military defense space programs will return to her alma mater, Austin Peay State University, to promote and sign her debut science fiction book.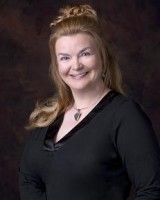 Stephanie Osborn ('83) will sign copies of "Burnout: The Mystery of Space Shuttle STS-281" from 2-4 p.m., Friday, Sept. 25 in the Sundquist Science Complex Atrium. The event is free and open to the public.
Later that day from 5-7 p.m. at the Pace Alumni Center at Emerald Hill, she will sign copies during a book signing and reception. The event also is free and open to the public, with an opportunity for attendees to ask questions and voice comments.
A limited number of books will be available for purchase at both events. Books are $20 each, cash or check only accepted. Osborn's book also is available for sale at most retail book stores and online.
Both book signing events are sponsored by the APSU National Alumni Association.
"Burnout," released by Twilight Times Books, is the story of a fictional Space Shuttle disaster, which turns out not to be an accident. As the principal investigators dig deeper, they discover the signs of something unusual – and as they do, all those involved begin to die in mysterious "accidents." They find themselves on the run, searching for answers, wondering who can – and can't – be trusted.
Currently retired from space work, Osborn is a former payload flight controller with more than 20 years of working in the civilian space program, as well as various military defense space programs. She has worked on numerous Space Shuttle flights and the International Space Station. Of the astronauts she has trained, one was Kalpana Chawla, a member of the crew lost in the Columbia disaster.
She holds graduate and undergraduate degrees in four sciences: astronomy, physics, chemistry and mathematics. Her various degrees are from APSU and Vanderbilt University.
For more information about Osborn, visit her Web site: http://www.stephanie-osborn.com.
For more information about the book signings, contact the Office of Alumni Relations at APSU, (931) 221-7979 or by e-mail at .