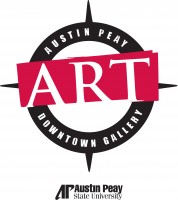 One of the reasons Austin Peay State University opened a gallery in downtown Clarksville was to offer its department of art faculty with an off-campus venue to display their work.
A little less than a month after that space first opened, these professors are doing just that. At 5 p.m. on Dec. 3, the APSU Department of Art Faculty Exhibit opens with a reception to correspond with the First Thursday Art Walk through downtown Clarksville. The show runs through Dec. 31, with the gallery closed Dec. 24-26 for the holidays.
The Austin Peay Downtown Gallery first opened in early November with "Whatever," an exhibit of work by APSU art alumni. Gregg Schlanger, art department chair, said this new show will feature pieces created by full-time and adjunct faculty.
Faculty members participating in the show include Schlanger, Kell Black, Susan Bryant, Mark DeYoung, Jim Diehr, Connie Livingston Dunn, Barry Jones, Rachel Kirk, Suta Lee, Cindy Marsh, Robert Neitzke, Brad Reagan, Billy Renkl, Ken Shipley, Jesse Shaw, Jennifer Snyder and Bruce Childs.
The gallery, located at 116 Strawberry Alley in downtown Clarksville, is open from noon to 4 p.m., Tuesdays through Saturdays. For more information on this space or the faculty exhibit, contact Schlanger at 931-221-7789 or schlangerg@apsu.edu.