Despite failing to hit a field goal in the final five minutes, Austin Peay State University women's basketball team pulled out an 83-79 Ohio Valley Conference victory against Murray State, Saturday afternoon at the Dunn Center.
Austin Peay (5-12, 4-2 OVC) held a 70-61 lead after junior Darcie Warner's basket with 5:12 remaining. That field goal – which was the Lady Govs final field goal of the game – was followed by Murray State's 12-2 run over the next three minutes. The Racers took a 73-72 lead after Kristen Kluempers converted a traditional three-point play. However, her field goal was the Racers final basket.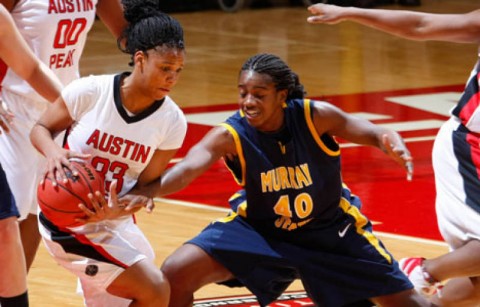 The game ultimately was decided at the free-throw line over the final 2:33. Austin Peay made 13 of its 18 free throws during that span, including junior Ashley Herring's 12-of-14 performance from the line. Murray State was 7-of-9 down the stretch and unable to keep up with the Lady Govs.
Murray State (6-10, 1-4) held the lead for most of the game's first eight minutes. Austin Peay grabbed the lead courtesy five consecutive points – a Herring three-point basket and a field goal by senior Nicole Jamen. The Lady Govs would extend their lead to 15 points later in the half via a 17-4 scoring burst that ended with APSU leading 45-30 with 1:56 remaining. The lead was trimmed to 11 points, 47-36, at halftime as the Racers scored four straight points to end the frame.
Herring led the Lady Govs with 19 points, including her career-high 12 free throws. Junior Jasmine Rayner finished with 11 points and 10 rebounds for her third career double-double. Jamen (16 points), junior Brooke Faulkner (15) and Warner (10) each also reached double-digit scoring territory.
Rachael Isom and Kayla Vance each scored 20 points to lead Murray State.
Austin Peay continues its three-game OVC homestand with a 7 p.m., Thursday contest against Tennessee State.