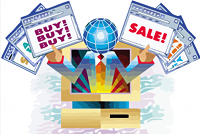 As with many of you here, I have had various courses in communication. From seminars to college courses I have tried to learn from them and become a better communicator both in person, verbal and via message.
When communicating via the Internet (email, blog, forum, website, etc) there are many aspects to communication that are missing: body language, voice inflections, facial expressions and gestures. This makes it difficult for the sender to get their message across to the receiver.
I can't tell you how many times I have read a message and received it in a totally different manner than what the sender had intended. Certainly I have written many communique that have been taken out of context. It is rather easy to do given the lack of factors mentioned above.
Many Professionals, whether they be Realtors, Mortgage Brokers, Car Dealers, etc. have flashy websites, speak eloquently, and even have photos of happy families posted on their sites. When you meet them in person you hardly recognize the person and while their website boasted quality service or many other aspects, you find out a little too late that the message received via the Internet was not an accurate depiction of the person, business or the service provided. «Read the rest of this article»


NASHVILLE – Austin Peay State University's baseball team fell behind early and could not forge a comeback, falling 5-3 to Belmont in non-conference action at Shelby Park.
Austin Peay (22-18) scored three runs in its half of the first inning to take the early lead. Center fielder Jared DeLong walked with one out and moved to second on designated hitter Matt Kole's single. Both runners would score on left fielder Adam Browett's triple off the right center field wall. Browett would himself score courtesy first baseman John Hogan's sacrifice fly.
«Read the rest of this article»
The Clarksville Area Chamber of Commerce has announced that this year's Intercity Visit will be May 19-21 in Greenville, South Carolina. The trip gives business and community leaders a chance to see what other cities are doing by examining community practices and lessons learned.
The trip to Greenville is both timely and relevant because community leaders are hopeful that what happened for Greenville over the past 15 years is on the horizon for Clarksville-Montgomery County. The announcement of a new BMW plant in 1992 and subsequent expansions have transformed Spartanburg County, South Carolina. The plant is at the center of growth in the "Upstate South Carolina" region. The initial investment of $2.2 billion has created over 23,000 jobs in the state. According to a study by the University of South Carolina, the plant generates more than $1.2 billion dollars in salaries each year. It's estimated that for every job at the facility, another 4.3 jobs have been created. In addition, thousands more jobs have been formed because of the automotive parts suppliers and research facilities that have invested in the area. «Read the rest of this article»
Kickers Country Club will play host to Confederate Railroad  at 10:00 pm on May 8th, 2010. Come on out and welcome the return of Confederate Railroad and Hank Emerick, and be part of one of the biggest nights in the history of Kickers.
From rowdy country to raw emotion, a Confederate Railroad concert today covers a wide range of feelings. Young people will be there rocking to "Trashy Women", while their parents and even grandparents will likely be singing along to "Jesus and Mama". The band plays 100 or so dates each year. Whatever the venue, they are right at home…be it a fair, a club, or a biker show. Shirley, the lead singer and vocalist, and his mates, Mark Dufresne on drums, Wayne Secrest on bass, Rusty Hendrix on lead guitar and Cody McCarver on keyboards and vocals are obviously having fun right along with their appreciative audience. At the end of each show, the band stays around until every fan who wants an autograph, or to pose with the group for a picture or just say "hello" is taken care of.
http://www.dailymotion.com/video/xcy7us_confederate-railroad-bill-s-laundro_music «Read the rest of this article»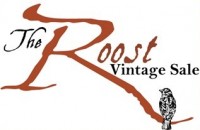 The Roose Vintage Sale is Clarksville's answer to all of those fabulous "occasional sales" happening too far away from us!   Most are held in a barn or out in someone's field, but we're going to use the space above ARTifacts—thus the moniker, "The Roost."
The Summer 2010 issue of Flea Market Style magazine addresses these sales as the events which draw crowds of record numbers in many communities. «Read the rest of this article»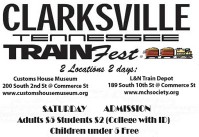 The model train layouts at Clarksville's Customs House Museum always draw a crowd. Once a year, the museum and the Montgomery County Historical Society (MCHS) host TRAINFEST, where people who like model trains will find much more to enjoy.
Trainfest 2010 will be held May 1st and 2nd at the Customs House Museum and the L&N Depot in Clarksville, Tennessee.
«Read the rest of this article»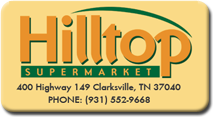 On Saturday, May 1st, Hilltop Supermarket will hold it's 1st annual BBQ cook off. There will be up to 25 teams, 4 people per team, with one head cook. The contestants will be cooking chicken and spare ribs to be judged. Each team must submit at least 6 separated and visible portions of meat. Fires can be of wood, wood pellets, charcoal and/or gas. No ground fires are allowed but barrel fires are ok. Judging will be based on taste, texture and appearance.
There will be fun and games for all those that attend as well as prizes to be won. Chicken will be judged at 12:30 pm and spare ribs at 1:00 pm. There will be a 1st, 2nd and 3rd place awards for each meat category. «Read the rest of this article»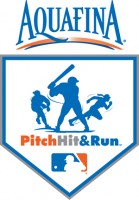 The annual local Pitch, Hit, and Run Competition was held April 17th at Heritage Park Softball Fields. This is the official skills competition of Major League Baseball and is comprised of 3 parts: The "Pitch" contest allowed youth to attempt to throw strikes like MLB pitchers by pitching to hit the MLB Strike Zone. The "Hit" contest was a chance for competitors to take a swing from home plate and be judged on distance and accuracy just like in MLB. After pitching and hitting, came the "Run" portion of the competition. Competitors started at 2nd base and tested their speed running into home plate.
«Read the rest of this article»
The Clarksville Area Chamber of Commerce will hold their 3rd Annual Clarksville Warrior Week, May 1-8. The week-long celebration honors military men, women and their families and gives local residents and businesses a chance to show appreciation for their service and sacrifice.
The schedule is as follows: «Read the rest of this article»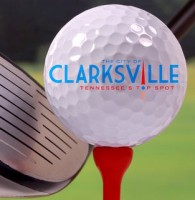 Jeff Vaughn the PGA professional for both of the city's golf courses wants to invite area golfers to come out and visit Mason Rudolph golf course this Saturday from 10:00 am – 3:00pm for a "Demo Day".
Factory representatives from Taylor Made, Calloway, and Cleveland golf will be on hand with all the new golf equipment for 2010. "If you're an avid golfer, you won't want to miss this event", said Vaughn. "Golfers will be able to try new golf clubs, and visit with representatives to discuss their game, and how to play their best golf". «Read the rest of this article»