Rick and Allison Malone are new business owners. They are the newest franchisees of Clarksville based Lasaters Coffee & Tea. Their store is located in the Willowchase Shopping Center (894 Hwy 76, Suite 101). The store opened on April first, and in what was likely taken by some as a savvy businesses April's fools day joke, offered free drinks to anyone who stopped by the store by that day.
They came to Clarksville through the military. Rick was serving with the 160th Nightstalkers out at the Fort Campbell Army base, and Allison enrolled in the Austin Peay State University's School of Nursing.
Allison said "We fell in love with Clarksville, Tennessee." When asked what specifically about Clarksville she loved the most, she identified the diversity of this community. "You have the feel of a big city, but the people are more friendly, They made us fall in love with Clarksville." she said, "In this city it seems as if everyone knows each other. Everyone has heard of the six degrees of separation theory, but in Clarksville it's really just three."
So five years ago when Rick's military service was over, they decided that Clarksville was the only place they wanted to be.
After the military, Rick returned his career as an occupational therapist, and now works at Gateway Medical Center.
Faith plays a very big part in Rick and Allison's life, "Our Christian faith is very important to us, both Church and Families." They were members of the Vineyard Church for 6 years, and now attend First Baptist Church downtown. They see the hand of God in their life, "We feel from the beginning the business has been blessed, a gift from God. From the first conversations with Matt Lasater, to the opening of their business, it seems that everything just fell together." Allison said "That (faith) is the basis for the whole thing." As Allison pointed out, "It has been our life long dream to be business owners."
Rick and Allison want their Coffee shop to be unique, "We want to be the Coffee House on the corner, not another corporate coffee house." That is reflected in the warmth you feel when you walk in the doors to the level of service you receive from the staff. Speaking about the decoration, she said "We had a definite vision for this location, we wanted to make it the type of place we would want to hang out." since opening they have already named specific drinks after some of their regular customers.
In addition to coffee you can also get cold drinks; delicious Panini style sandwiches; and for those with a sweet tooth, tasty desserts. For the morning commuters, they have drive-thru service.
If you are ever not happy with your visit to Rick and Allison's Coffee Shop, make sure you let them know, "If something doesn't meet your expectations, we will fix it! Our customers are not just customers, they are our friends!"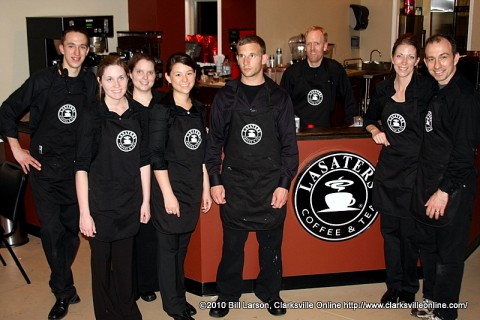 Rick and Allison's Lasaters Coffee & Tea
894 Hwy 76, Suite 101 Clarksville, TN 37043
Hours: Mon-Fri 5:30 am-10:00 pm, Sat 7:00 am-10:00 pm, Closed Sunday.
Phone: 931-591-2637