The APSU Center of Excellence for the Creative Arts together with the Wilbur N. Daniels African American Cultural Center brought in the incredibly talented Poet Afaa Michael Weaver to do a reading at Austin Peay State University on Monday.
The reading was originally scheduled for February 1st 2010 to coincide with Black History month, but was snowed out. It was rescheduled it for the month of April, which luckily is National Poetry month.
Around 25 people gathered in room 303 in the Morgan University Center to hear Afaa Weaver read from his myriad of works. We were a mixed bunch, students, faculty, and the general public. The ages of the attendees ranged from young to the white haired crowd. But everyone had something in common, the love of Poetry and the desire to hear it spoken by the author who wrote it.
Hearing an author read their work  be it fiction, or poetry; is always a special occasion. The author paints a scene using his words in much the same way as a painter does with his brush, and the resulting imagery is just as vivid.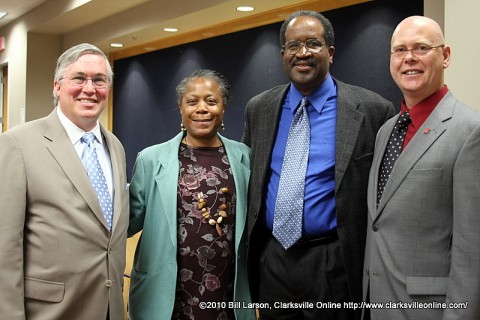 That was the case with poet Afaa Weaver, soft spoken but with such a rich baritone voice that as you listen you find yourself sinking into his words and losing yourself in his prose. See what I mean for yourself. Here is Afaa Weaver reading a short clip from one of his poems.
[wpaudio url="https://www.clarksvilleonline.com/wp-content/uploads/2010/04/Afaaweaversample.mp3″ dl="0″]
Weaver started his reading from his book the Plum Flower Dance: Poems 1985-2005. The volume is based on Chinese philosophy,the philosophy of the five elements: Gold, Water, Wood, Fire, and Earth. And the Daoist pursuit of what Americans call Kung Fu, but it is a five fist, five element form. It is drawn on the idea that water corresponds to grieving. He began with the element Water and the title poem Water, which is very short, and Weaver said was inspired by the Kabbalah.
He then moved on to the poem from the audio sample above, Beginnings. A poem about his bullied and being driven to strike back.
Next up was Radio Days, a poem written for his brother Mark J. Weaver, which touches on expectations and dreams.
Next up was poems about Bathsheba and David. Weaver started with the luscious Bathsheba, and moved on to David in his old age. Weaver identified the story of David as being one of his favorite in the bible.
He then read the title poem from his first collection Water Song. The poem relates the story of the suicide of Weaver's Uncle Jessie who drowned himself in a lake.
Weaver then relates the story of his own childhood in a poem.
Mt. Zion Baptist relates the story of his falling to sleep in Church and the repercussions that he faced for that, his mother apologized for it many years later.
Weaver then read a poem he wrote about the earthquakes in Haiti, a poem he wrote while he was in Clarksville, TN in February.
As with any grandfather, Weaver is incredibly smitten with his granddaughter. He read a poem he wrote about her, and the affect that she has had on his life.
He finished up the reading with Remember, a poem on the lengths he would go in order to protect his granddaughter.
About Afaa Weaver
Weaver was born in 1951 in Baltimore, Md., to working-class parents. He attended public schools and graduated as a National Merit finalist at the age of 16. After two years at the University of Maryland, he entered the world of factory life alongside his father and uncles and remained a factory worker for 15 years. These years were a literary apprenticeship during which he wrote and published poetry, short fiction and freelance journalism. During that time he also started 7th Son Press and Blind Alleys, a literary journal.
His first book of poetry, "Water Song," was published in 1985 as part of the Callaloo series. He received a National Endowment for the Arts fellowship for poetry six months after signing the contract for the collections and left factory life to accept admission into Brown University's graduate writing program on a full university fellowship, where he completed the M.A. with a focus on theater and playwriting. Concurrently, he completed his B.A. in literature in English through Excelsior College.
Weaver has been a Pew fellow in poetry and taught in National Taiwan University and Taipei National University of the Arts in Taiwan as a Fulbright Scholar. At Simmons College in Boston, Mass., he is the alumnae professor of English and director of the Zora Neale Hurston Literary Center. In addition, he is chairman of the Simmons International Chinese Poetry Conference.
Full-Length Poetry Collections*
The Plum Flower Dance: Poems 1985 to 2005 (University of Pittsburgh Press, 2007)
The Ten Lights of God. Bucknell University Press. February 2000.
Timber and Prayer: The Indian Pond Poems (University of Pittsburgh Press, 1995)
My Father's Geography (University of Pittsburgh Press, 1992)
Water Song. University Press of Virginia. 1985.  Callaloo series
Sandy Point. Engravings Rosalyn Richards. Lewisburg, Pennsylvania: The Press of Appletree Alley.
Plays
Rosa was produced in 1993 at Venture Theater in Philadelphia
Anthologies Edited
Anthology Publications
Arnold Rampersad, Hilary Herbold, ed (2006). "My Father's Geography". The Oxford anthology of African-American poetry. Oxford University Press US.
Mona Eliasson, ed (1999). "Eighteen". Teaching about Violence Against Women. Feminist Press. 
Gloria Naylor, ed (1997). Children of the night: the best short stories by Black writers, 1967 to the present. Little, Brown and Co.. 
Maria M. Gillan, Jennifer Gillan, ed (1999). Identity lessons: contemporary writing about learning to be American. Penguin Books.
* List of works from the English Langauge Wikipedia.