Begins June 11th at the Roxy Regional Theatre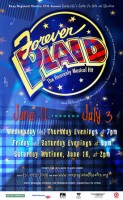 Audiences will be humming along to some of the great nostalgic pop hits of the 1950s when the Roxy Regional Theatre opens the hit musical FOREVER PLAID on Friday, June 11th, at 8:00pm.
This deliciously goofy revue centers on four young, eager male singers — Gregory Pember as Frankie, John Moser as Smudge, Christopher Cavallo as Sparky and Ryan Bowie as Jinx — killed in a car crash in the 1950s on the way to their first big concert, and now miraculously revived for the posthumous chance to fulfill their dreams and perform the show that never was.
Singing in close harmony, the guys of FOREVER PLAID perform musical favorites including "Three Coins in the Fountain," "Undecided," "Gotta Be This or That," "Moments to Remember," "Crazy 'Bout Ya, Baby," "No, Not Much," "Sixteen Tons," "Chain Gang," "Perfidia," "Cry," "Heart and Soul," "Lady of Spain," "Scotland the Brave," "Shangri-La," "Rags to Riches," "Love is a Many-Splendored Thing" and a surprising rendition of the Beatles' "She Loves You."
FOREVER PLAID runs June 11th through July 3rd, playing Wednesdays and Thursdays at 7:00pm and Fridays and Saturdays at 8:00pm, with a 2:00pm matinee on Saturday, June 19th.  Tickets are $20.00 (adults) and $15.00 (ages 13 and under) and may be purchased online at www.roxyregionaltheatre.org, by phone at 931-645-7699, or at the theatre during regular box office hours (9:00am-2:00pm, weekdays).
Roxy Regional Theatre
100 Franklin Street
Clarksville TN 37040
www.roxyregionaltheatre.org
(931) 645-7699