Around 12:25 yesterday afternoon, there was a two car collision at 2220 Madison Street (opposite of Gas and Water).  A 1992 Chevy Z-28, driven by Edward Edgin, 35, of Clarksville was travelling east on Madison Street.  He was in the right travel lane.   A 2002 Saturn Vue, driven by Dianne Nanney, 58, of Adams was travelling west, in the center turn lane preparing to make a left turn into a business. 
A vehicle in the left east bound lane stopped to allow the Saturn to make a left turn.  Dianne Nanney started to cross the east bound lanes, did not see that the Chevy Z-28 had continued travelling in the right lane, and the Chevy collided with the passenger side of the Saturn causing the Saturn to flip on its roof.
Edward Edgin was transported to Gateway with non-life threatening injuries.  Dianne Nanney had a minor injury, but was not transported.
Dianne Nanney was cited for Failure to Yield and Edward Edgin was cited for Driving on a Suspended License.
Office Al Altman is the lead investigator.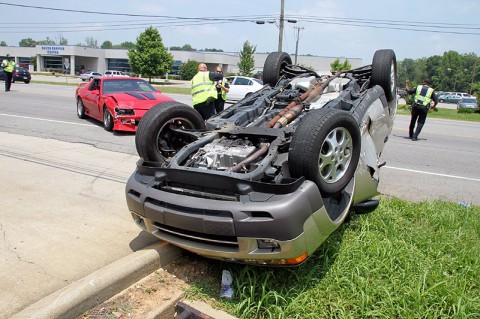 Sections
News
Topics
Al Altman, Clarksville Police Department, Dianne Nanney, Edward Edgin, Wreck