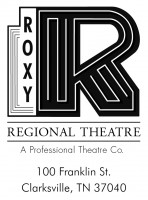 The Roxy Regional Theatre ventures into the fractured fairy tale world of James Lapine and Stephen Sondheim's Tony Award-winning INTO THE WOODS, beginning Friday, July 16th, at 8:00pm.
 
When a Baker and his Wife learn they've been cursed with childlessness by the Witch next door, they embark on a quest for the special objects required to break the spell, swindling, lying to and stealing from Cinderella, Little Red, Rapunzel and Jack (the one who climbed the beanstalk).  In the style of "The Princess Bride," well-known stories by the Brothers Grimm, as well as other childhood tales, are woven together into a colorful parable about the human search for "happily ever after."
INTO THE WOODS features Ryan Bowie and Heather Stricker-Dispensa as the baker and his wife; Hannah Church, John Moser and Rachael Fogle as Rapunzel, her prince and the witch; Gregory Pember and Jackie Ostick as Jack and his mother; Kera Halbersleben, Lisa MacAfee, Hannah Carmona, Kari Muller, Bill Colclough, Humberto Figueroa and Josh Bernaski as Cinderella, her stepmother and sisters, her father and her prince; Sarah Levine, Josh Bernaski and John McDonald as Little Red Riding Hood, the wolf and Granny; and Ted Jones as the narrator.  
INTO THE WOODS runs July 16th through August 28th, playing Thursdays at 7:00pm and Fridays and Saturdays at 8:00pm, with a 2:00pm matinee on Saturday, July 24th.  The Saturday, July 17th, performance comes with a dinner and theatre option, in which patrons can enjoy dinner at Edward's Steakhouse on Franklin at 6:00pm, followed by the performance at the Roxy at 8:00pm.  (The evening's menu features Edward's Famous 6-oz. Steak, House Salad, Loaded Baked Potato and Dessert. The children's menu includes a Choice of Steak, Shrimp, Sliders or Chicken Tenders with Fries, or Macaroni and Cheese.)  Tickets for dinner and show are $35.00 (adults) and $25.00 (ages 13 and under).  Show-only tickets are $20.00 (adults) and $15.00 (ages 13 and under) and may be purchased online at
www.roxyregionaltheatre.org
, by phone at 931-645-7699, or at the theatre during regular box office hours (9:00am-2:00pm, weekdays).