Topic: Hannah Carmona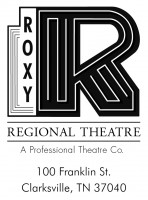 The Roxy Regional Theatre ventures into the fractured fairy tale world of James Lapine and Stephen Sondheim's Tony Award-winning INTO THE WOODS, beginning Friday, July 16th, at 8:00pm.
 
When a Baker and his Wife learn they've been cursed with childlessness by the Witch next door, they embark on a quest for the special objects required to break the spell, swindling, lying to and stealing from Cinderella, Little Red, Rapunzel and Jack (the one who climbed the beanstalk).  In the style of "The Princess Bride," well-known stories by the Brothers Grimm, as well as other childhood tales, are woven together into a colorful parable about the human search for "happily ever after." «Read the rest of this article»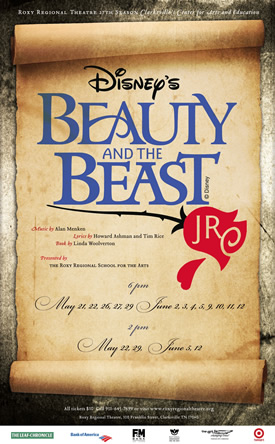 They say your first musical will always be your favorite, and that is the case for me with Disney's Beauty and the Beast, it was the show that was playing when I first ventured into the Roxy Regional Theatre. Their professional production of this Disney classic sparked a continuing love of Musical Theatre in me.
So, when I heard that the Roxy was planning on staging Disney's Beauty and the Beast Jr. as part of their 2010 season I was excited as I saw it as as chance to revisit my first musical. And I wasn't disappointed. Watching those young actors and actresses performing their hearts out, renewed that feeling of wonder that I experienced when I sat in the seats watching my very first show at the Roxy.
A video used to be embedded here but the service that it was hosted on has shut down. «Read the rest of this article»
The opening night performance of "CATS" sold out at the Roxy Regional Theatre.  All the pay-what-you-can night hopefuls were disappointed because so many fans paid full price to reserve and get in to this extraordinary show, which will only get better.  Those who wish to see CATS are encouraged to get their tickets early; the show runs Tuesdays, Wednesdays and Thursdays at 7 p.m., Fridays and Saturdays at 8 p.m., and Saturday, April 18 at 2 p.m. through May 2.
Artistic Director John McDonald opened the show by telling our audience that this production is a "dream come true" for the Roxy. It is a dream unfolding for lucky Clarksvillians who get to enjoy this ambitious live theatre production.  We've watched the Roxy take on bolder and more expensive productions like this, giving year after year of continuous shows of quality in our community.  We, the audience, can help them by going to the shows and supporting this artistic endeavor.
The live theatre experience is different each time we go.  Performers make it different; so do the audience. «Read the rest of this article»
As part of its 26th season of presenting quality live theatre, the Roxy Regional Theatre in Clarksville, Tennessee, opened the hit musical CATS on Friday, April 10, to a sold-out house.  Tickets are still available for CATS performances through May 2, playing Tuesdays thru Thursdays at 7pm and Fridays and Saturdays at 8pm, with a 2pm matinee on Saturday, April 18.
Based on the universally popular poetry of T.S. Eliot, CATS tells the story, in song and dance, of the annual gathering of Jellicle cats, at which time one special cat is selected to ascend to the Heaviside layer.  Featuring a cast of seventeen and the fresh and energetic choreography of Braham Logan Crane, CATS is certain to delight and inspire audiences of all ages.
«Read the rest of this article»

The Roxy Regional Theatre is now showing Buddy, The Buddy Holly Story. I attended the opening nights show and here is my review of the production.
I walked into the theatre and was immediately transported through time to the late 1950's by this incredible Amber Wallace set. I have never been disappointed with any Roxy set, but my favorites are all Amber Wallace's creations. Her best work in my opinion, was the sets that she did for last years Miss Saigon and Disney's Beauty and the Beast.
This show covers Buddy Holly's life from his rise to success in 1957 to his death in the 1959 plane crash which also took the lives of Rock and Roll legends Ritchie Valens and J. P. Richardson who was also know as the Big Bopper. This plane crash was immortalized in the Don Mclean song American Pie. «Read the rest of this article»