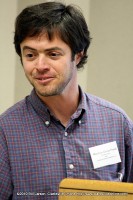 When Matthew Gavin Frank opened his talk, "Eating and Flying: A Food and Travel Writing Seminar," at the Sixth Annual Clarksville Writers' Conference by eating a potato chip and drinking from a bottle of water quite noisily into a microphone, I started to cringe.
His idea for doing this was to state that when one is forced to listen to someone else eat and drink, it opens up memories. The author of Barolo (The University of Nebraska Press), a food memoir based on his illegal work in the Italian wine industry, he asked his captive audience what memories would be evoked if the person were eating from silver and from china as opposed to using paper and plastic. He wanted us to think about the way various people in our lives—grandmother or mother or first lover or current lover—ate and how that might define us.
(Personally, it wasn't a subject that had previously come up for me.)
Matthew, born and raised in Illinois, (perhaps his Northern heritage has something to do with the way he approaches food and memory!) said that sense memory is rooted in emotion; this view strikes a faulty tone and is not "real truth" to people he called "fact checkers." He claims that it is truth to a writer.
"Our memories are prone to exaggeration and understatement," he insisted. Matthew asked, "How does when we eat impact who we are?" He told us he keeps in a spiral notebook a log of when and what he eats and refers to it later for ideas about his food and travel writing. He also notes what was hanging on the walls at the time of these entries to the diary.
He talked for a while about the way his father ate as being "operatic mastication" and said that they always had the television on to drown out most of the noise. (I'm hoping his father isn't reading this and getting insulted!) Matthew said there was pathos in the sounds of his father's eating.
Having written poetry in his book Sagittarius Agitprop and in his forthcoming book, Warranty in Zulu, Matthew is a man in love with words. His web site also mentions "Four Hours to Mpumalanga" as a chapbook filled with poetry about his first visit to rural South Africa, the homeland of his wife Louisa. Another poetry sequence is Aardvark" that strangely engages the alphabet. He's written for many magazines like Crazyhorse, Indiana Review, Pleiades, Gastronomica, Plate Magazine, The Best Food Writing 2006, The Best Travel Writing (2008 and 2009) and others.
He read to us from his article, "My Dinner with Dubie," (look it up at www.poetryfoundation.org to see it in its entirety). Matthew described his 15-year experience in the food industry ranging from driving ice cream trucks to running an Alaskan diner next to a bowling alley to sautéing hog snapper in Key West to running an avant garde catering company (think chicken liver ice cream if you can stomach the thought!) to designing menus for private parties given by Julia Roberts in Taos, New Mexico. Of course, he also picked grapes in Italy while living out of a tent.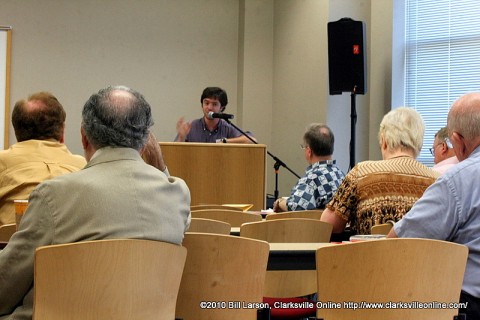 Matthew's description of the meal he cooked for the poet Norman Dubie consisted of seared sea scallop with lychee nut-sesame sorbet, parmigiano tuile and lavender oil, followed by Pacific red snapper with sweet corn glaze, baby bok choy, roasted shallot and red wine-macerated cherries, with revisionist Caprese salad for dessert. (I have to admit–being the simple soul with an intense desire for plain Southern cooking that I am—I had no clue what these concoctions were like. Besides, I don't eat fish.)
The bottom line on this extensive description of the meal ended with Dubie requesting that next time they just have cheddar cheese corn bread and carrots.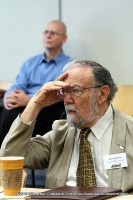 Following this reading, we were treated to a description of his wife's and his eating tlayuda (he pronounced this word somewhat like "cloyuta") in Oaxaca, Mexico. According to Wikipedia (keep in mind the source, of course), tlayuda is the considered a representative iconic dish of Oaxaca. It is a large and thin crunchy partially fried or toasted tortilla covered with a spread of refried beans, asiento (unrefined pork lard), lettuce or cabbage, avocado, chapulines (roasted grasshoppers), meat (usually shredded chicken, beef tenderloin or pork), Oaxaca cheese, and salsa. Matthew said it's like Mexican pizza.
(I have to admit that if he said anything about the grasshoppers I totally missed it. Matthew has a quick delivery and my slow Southern ears probably missed quite a few of his many words. At any rate, had I heard that they were eating grasshoppers, I might have felt less than happy at the thought. Frankly, I could hardly stomach the idea of lard so most likely wasn't listening too closely after that came up.)
Matthew said that his wife and he agreed that it was the best tlayuda they had ever eaten, but admitted it was also the first.