Marks Fourth State Park Golf Course to Receive Designation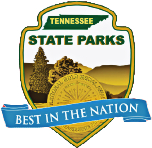 Pickwick Dam, TN – Environment and Conservation Commissioner Jim Fyke is pleased to announce that the Winfield Dunn Golf Course at Pickwick Landing State Park was recently recognized as a Groundwater Guardian Green site.  The Pickwick Landing course joins the Bear Trace at Harrison Bay State Park, Paris Landing and the Montgomery Bell golf course as one of the only four sites in Tennessee with this designation from The Groundwater Foundation.
Groundwater Guardian Green Sites are places with significant green space – such as golf courses, ball fields, educational campuses and office parks – that implement effective groundwater and surface water practices to protect water quality. Pickwick Landing's Winfield Dunn Golf Course documented an array of groundwater-friendly practices to earn this exclusive designation. The golf course is actively protecting local water supplies by optimizing fertilizer applications, applying natural organic products when possible and creating vegetative buffer areas around wetlands and shorelines.
In an effort to protect surrounding waterways and groundwater supplies, the Pickwick Landing course has utilized native plants and buffer zones. Overall, these decisions have reduced fertilizer and chemical inputs into the environment and also decreased the amount of water required to irrigate these areas.
"A large amount of the state's public water supply is provided from groundwater and improving upon its protection is important to the safety and health of all Tennesseans," Fyke said. "I commend Preston Maxey, Larry Finley and the entire team at Pickwick Landing State Park's golf course for their innovative green strategies and conservation leadership. Their hard work serves as an example of how good environmental stewardship can truly make a difference."
The Groundwater Guardian Green Sites program is administered by The Groundwater Foundation, a non-profit organization based in Lincoln, NE, with a mission to educate and motivate the public to care about and for groundwater. The program began in 2007 to recognize good stewards of groundwater by encouraging managers of highly managed green spaces to implement, measure and document their groundwater-friendly practices. The Groundwater Guardian Green Site program is supported by Cargill, the Nebraska Environmental Trust, the U.S. Environmental Protection Agency Region 7 Pollution Prevention Program, and the W.K. Kellogg Foundation. To learn more, please visit www.groundwater.org/gg/greensites.html.
About Pickwick Landing State Park
Pickwick Landing State Park is located just south of Pickwick Dam and 12 miles south of Savannah, Tennessee. The lake and river offer excellent fishing, boating, swimming and a marina.  Accommodations in the park include a modern inn and restaurant, cabins and camping. The park is made up of 1,400 acres of forested hills and hollows, with a 2.8-mile trail to explore and enjoy the wildlife and plant life around the lake. Picnicking, swimming, golfing and play fields are just a few of the amenities. For additional information about the park, please call 1-800-250-8615 or visit www.tnstateparks.com/PickwickLanding.
About The Pickwick Landing State Park Golf Course
The Pickwick Landing State Park Golf Course is located close to the borders of Mississippi and Alabama, within proximity to Pickwick Dam. Opened in 1973, the course is a local favorite and well known among destination golfers. With its holes and fairways lined with trees, Hole #2 is a 396-yard dogleg, right par 4 and considered the course's signature hole.  Pickwick Landing Golf Course hosts the St. Jude's Charity Golf Tournament, as well as several district and regional events throughout the year. Additional information about Pickwick Landing State Golf Course and the entire Tennessee Golf Trail can be found at www.tngolftrail.net/.
About Tennessee State Parks
Tennessee's 53 state parks offer diverse natural, recreational and cultural experiences for individuals, families or business and professional groups.  State park features range from pristine natural areas to 18-hole championship golf courses.  For a free brochure about Tennessee State Parks, call toll free 1-888-867-2757. For additional information, visit our Web site at www.tnstateparks.com.