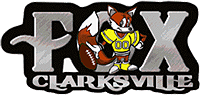 Clarksville, TN – The Clarksville Fox is hosting their 5th annual Easter Egg Hunt Saturday April 16th at Northwest High School at 10:00am. The gates will open at 9:00am with inflatables from Go Jump for the kids of all ages to play on for FREE. We will have the team's mascot "Trixy" there, pictures with Trixy and your family, and other fun stuff.
The Easter story will be told at 10:00am followed by the hunt itself. There will be Easter Egg Hunts for different ages as well as a special hunt for those with special needs, There will be candy, toys, Easter Eggs, special prizes in eggs, and many gifts from the sponsors of the Fox and from local businesses. This is going to be a very special day for the Fox and the Clarksville/Fort Campbell communities with the Easter Egg Hunt followed by the Fox Woman's Full Contact Football Game Saturday evening at 7:00am.
The Fox Needs Your Help to make the 2011 Easter Egg Hunt the best one yet.
PLEASE ask your friends, family, and business associates to put a box out taking donations of candy, toys, gifts, or money to help make the Easter Egg Hunt fun for the kids of the Clarksville/Fort Campbell community. Ask them to do this and they will do it for the kids. I will come by and pick up all donations and leave a receipt for a tax deduction to a 501 C-3 non-profit charity. I can be reached at 931-320-2976. Call me with any questions, boxes or bags for donations, or to pick up donations.
The Clarksville Fox Foundation Inc. is a federal non-profit 501 (c) (3) and donations are a tax deduction for you and your business. Receipts will be given for all donations upon request.
Donations can be made to: Checks made out to, Credit cards or debit cards taken over phone or in person just call Rob Brown 931-320-2976, at the web site with credit, debit, or PayPal. CLICK HERE.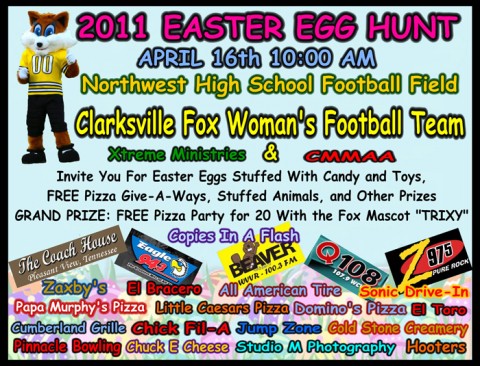 Easter Egg Hun:
Inflatable jumpers for the kids to play on FREE donated by Go Jump Inc. from Pleasant View.
Special Hunt for those with Special Needs.
Candy.
Toys.
Stuffed Animals.
FREE Pizza Give-A-Ways.
Prizes and Gifts from sponsors of the Fox Fun Card and other local businesses.
Special Easter Eggs with Prizes in them.
Fox Mascot "Trixy" will start the Easter Egg Hunt.
Stuffed animal "Lil Trixy" doll.
Professional pictures with Trixy.
Prizes like bicycles and other gifts will be found in certain special marked Easter Eggs.
Different Hunt areas for different ages.
Grand Prize is a FREE Pizza Party at your house for 20 kids. Pizza will be delivered by the Fox mascot "Trixy". "Trixy" will stay for an hour for fun and entertainment at your party.
Football Game
That evening the Fox will host the TN Valley Tigers in a woman's full contact football game with gates opening at 6:00pm.
List of Events:
Tailgating in the parking lot. Bring your BBQ and have fun. Easter Egg Hunt is this morning at 10:00am. Bring the family to the hunt and stay and cookout all afternoon, play games, and be early for the game. I will have my smoker my dad custom built for me and the Fox there going ALL DAY.
Corn-Hole games all afternoon. I will have THREE games set up for those wanting to play with them. First come First serve.
Gates open at 6:00pm.
Inflatables for the kids of all ages to play on provided by Go Jump Inc. out of Pleasant View TN.
Concessions provided by NWHS Football Boosters with hotdogs, hamburgers, sodas, candy, Pizza, and much more food and drinks for everyone.
National anthem performed at 6:55pm.
Kick Off with the Clarksville Fox hosting the TN Valley Tigers inn an IWFL Woman's Full Contact Football Game. YES Real Football !