APSU Track and Field

Murray, KY –  With six events in the book at the 2011 Ohio Valley Conference Outdoor Track and Field Championships, Austin Peay State University women's track and field team is in seventh place.
Eastern Illinois is leading the pack with 74 points, while Southeast Missouri is a distant second with 53 points. Murray State (26), Eastern Kentucky (21), Tennessee Tech (16), Tennessee State (15.50), Austin Peay (13), Morehead State (8) and Jacksonville State (7.50) make up the rest of the field.
The first day was primarily qualifiers for sprints and distance, with only a few scoring events. The championship continues, Saturday, at Murray State's Roy Stewart Stadium.
Austin Peay's efforts were highlighted by the jumpers, as 12 of its 13 points came from two events – the high jump and long jump. Latoya Monger took a third-place high jump finish with a personal-best 1.68m height. Monger lost a jump off to miss out on second place, which went to Tennessee Tech's Katherine Lynn. April Holman, meanwhile, placed fifth with a 1.63m height, also losing in a jump off.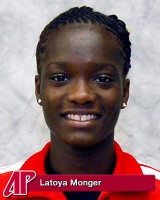 "We got off to a real good start," head coach Doug Molnar said. "Monger did an awesome job in the high jump, it was a lot of fun to watch. She cleared two personal best heights. It was good to see a senior step up and get the job done. She also had a good run in the hurdles."
The Lady Govs long jump scoring was courtesy of Leigha Tolliver's seventh-place finish with a 5.18m distance, a mark well shy of her 5.46m season-best.
Senior Janelle Avery garnered a point with an eighth-place finish in the 3000-meter steeplechase. Avery will have another shot to get on the board, Saturday, as she is slated to run the 5000-meters.
Austin Peay struggled in sprint qualifying, failing to get a runner in the final for the 100- and 200-meter dashes. Alyx Pinkston managed a sixth-place finish in the 400-meter with a personal-best 56.64 time. The Lady Govs also had Monger qualify for the 100-meter hurdles with a personal-best 14.87 and Ashley Carson qualify for the 400-meter hurdle final with a 1:05.12 time.
"I was glad to see Ashley Carson get in the finals," Molnar said. "She has been out almost a month with a stress fracture, but she put up a real good time today. Pinkston did a great job in the 400-meters also – I believe it was a two-second personal-best time for her."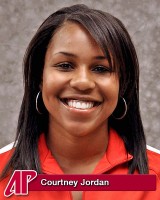 Saturday's schedule begins, 9:00am, with the pole vault, followed by the hammer throw, triple jump and javelin. The track events are slated to begin at 10:00am with the 4×100-meter relay, concluding with the 4×400 meter relay in the afternoon.
"It's always good to start with the relays," Molnar said. "You never know what's going to happen in the triple jump and we've got some good jumpers going in. I expect good things out of Courtney Jordan in the javelin as well. You never know what can happen in the championships."
Live results are available at www.ktccca.org/2011OVC/