APSU Sports: Women's Soccer

Clarksville, TN – A year removed from the Ohio Valley Conference Tournament's championship game, Austin Peay State University women's soccer team has been picked third in the OVC's preseason soccer poll, the league announced, Thursday.
"We're happy about it, but at the same time, I don't put much stock in preseason polls," head coach Kelley Guth said. "It's an indicator that our results, last year, earned us some respect within the conference and it's well deserved. But that was last year and it's a brand new season and anything can happen."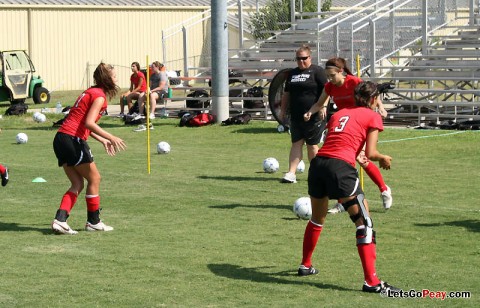 Morehead State (154 – 14 first-place votes) was picked to win the league on the heels of its second-straight tournament title, followed by Southeast Missouri (134 – one first-place vote) and Austin Peay (133 – five first-place votes). Murray State (94), UT Martin (90), Eastern Kentucky (88), Eastern Illinois (81), SIU Edwardsville (67), Tennessee Tech (37) and Jacksonville State (22) round out the field.
The Lady Govs are coming off the program's most successful season in its short 10-year history, posting a 14-6-1 overall mark along with a 4-3-1 OVC clip. Not only did they finish second in the league, they avenged a regular-season loss to Southeast Missouri in OVC tourney play to advance to the program's first-ever title game. It was there, this Morehead State edged out the injury-depleted Lady Govs.
"We have to put ourselves in a good position while we prepare for this season," Guth said. "There are still some questions, coming into the preseason, on how prepared some of our players are going to be coming off injuries. So far, everyone has been released and I've been pleased with their progress."
This season, Austin Peay is coming in healthy. Guth's team returns OVC Freshman of the Year Tatiana Ariza, along with two other All-OVC picks in Natalia Ariza and Joceline Quiceno – all three of whom will be entering their sophomore seasons.
Along with those front-line standouts, Guth's defense also looks to be in-tact, returning two players – redshirt-sophomore Jazzmine Chandler and redshirt junior Sara Kluttz – who missed last season with injuries. Kluttz and Chandler will join sophomore Corey Osborn and junior Renny Robinson in the defense.
The Lady Govs reported to campus and began their preseason training, Tuesday, with their first exhibition scheduled against Freed-Hardeman, August 12th. Following that match, the Lady Govs face St. Louis University in August 14th exhibition. Both matches scheduled at Morgan Brothers Soccer Field.