APSU Sports: Women's Golf

Clarksville, TN – If nothing else Austin Peay State University women's golf team is hoping for better weather when it participates in the MSU Drake Creek Invitational, Monday and Tuesday, at the Drake Creek Golf Club in Ledbetter, KY.
The 54-hole tournament-36 holes Monday, 18 Tuesday-will be played on a 6,178-yard, par-72 layout. The young Lady Govs hope to get in more than the 18 (of 54 holes schedule) rainy holes they played last Sunday.
"We are coming off a rough week," APSU coach Sara Robson said. "We struggled in the conditions and let them get to us mentally last Sunday in Alabama. Then we were unable to redeem ourselves Monday or Tuesday due to the last two rounds being rained out."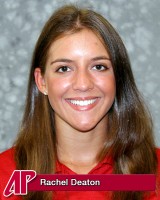 "We need to focus on the fact that we came back to school playing great golf and we need to forget about our last round. It will be important this week in Kentucky to focus on one shot at a time, stay in the present, remain confident and to only worry about the things we can control. We cannot let outside factors dictate how we are going to perform. We need to play smart golf and minimize our big numbers."
The Lady Govs finished seventh in their first tournament, shooting a 331, after firing sub-300 rounds during qualifying. The Murray State tourney almost is a mini-OVC event. In addition to APSU and the host Racers, the event will include Eastern Kentucky, Morehead State, Tennessee State and Tennessee Tech. Belmont, Lipscomb, Northern Kentucky and Western Kentucky also will participate in the 10-team affair.
The Lady Govs lineup will be sophomore Rachel Deaton, junior Lauren Bond, freshman Marta Gutierrez, sophomore Tala Mumford and sophomore Tabitha Beard. Junior Holly Batey, senior Ashley Averitt and freshman Meghan Mueller will play as individuals.