APSU Sports Information: APSU Football

Clarksville, TN – 373 days. That was how many days since Austin Peay State University's last football victory entering Saturday night.
That all changed when the Governors, using three Jake Ryan-to-Devin Stark touchdown passes, defeated Eastern Kentucky, 23-17, to snap an 11-game losing streak along with a seven-game Ohio Valley Conference losing streak.
The victory pushed the Govs to 1-2 overall while Eastern Kentucky fell to 1-3. It was the OVC opener for both clubs.
The Governors snapped a 22-game losing streak to Eastern Kentucky two years ago when the Colonels visited Governors Stadium. Saturday's victory represented not only the first time in APSU history they defeated EKU two straight times at home, but it was as well their first home OVC win since defeating Tennessee State, November 14th, 2009.
And it was the spectacular play of junior wide receiver Stark, who became the first Govs receiver since Darryl Miller against Tennessee Tech in 2008 to have three TD grabs. And they weren't just any catches.
The first came with 7:11 left in the first quarter with a diving finger tip snare in the end zone.  That gave Austin Peay its first lead of the season, 7-0.
The second came just prior to halftime to return the momentum Govs just minutes before when EKU took a 10-9 lead on a T.J. Prior pass to Tyrone Goard. Stark leaped into the right corner of the end zone over All-OVC defensive back Jeremy Caldwell to allow the Governors to take a 16-10 halftime lead—their first advantage at intermission this season.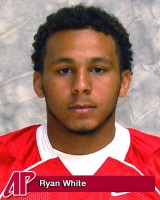 The third scoring reception proved to be the game winner, that occurring in the third quarter on their first possession. The 11-play, 76-yard drive concluded with the Govs, facing a third-and-four from the EKU 11, saw Stark turn around cornerback Justin Bell in the left corner of the end zone with Ryan dropping the pass into the 6-4 receiver's hands.
Although Stark was key to the Govs victory so was the running of senior tailback Ryan White, who finished with 132 yards rushing on 27 carries. The Nashville native was instrumental in the second half when his runs help not only grind up crucial yardage from a field-advantage standpoint but precious seconds as well.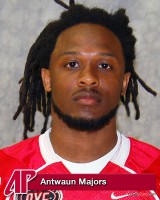 In addition, the Governors much-maligned defense entering the game picked off its season's first two passes (Steven Ragin and Antwaun Majors), but also had four quarterback sacks—their first four of the season. In total the Govs had eight tackles for losses, four more than the vaunted EKU defense that entered the contest as the nation's leader in tackles-for-loss per game (12.0).
Austin Peay held Eastern Kentucky to 133 rushing yards in 41 attempts, compared to 201 yards rushing for the Govs, who got 51 more yards from junior Wesley Kitts.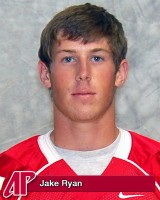 Majors led the defensive effort with 11 tackles while sophomore linebacker Josh Carroll had nine, including 1.5 tackles for loss. Fellow linebacker Darrick Dillard had a pair of tackles for loss.
Junior quarterback T.J. Pryor threw for 231 yards, including a pair of TD strikes (52, 12) to Tyrone Goard but also was picked off twice and sacked a trio of times.
The Governors will play at home for a second straight week when they welcome Tennessee State, 6:00pm, Saturday to Governors Stadium.
Head Coach Rick Christophel
Opening statement
"I'm unbelievably proud of these kids. After the Cincinnati game, coming back and playing against Memphis where we had chances to win the football game, and then to come out here and play the first conference game against Eastern Kentucky who was picked up in the middle. To come out and play like we did, I can't say enough about them. I'm proud of them."
"Don't take anything away from Eastern Kentucky, they came in and played well. We just played well. I mean that's what it boils down to. You work hard all week in practice and you work hard to get there, then you win football games."
What were some of the keys to the game?
"We won the game at the line of scrimmage and that's what we worked on all week long. We had to win the game at the line of scrimmage to win tonight. We had to do three things to win the game tonight and we accomplished all three of them. We said one, we've got to win the game at the line of scrimmage. Two, we had to win the turnover game. We did. And three we had to win the kicking game, which we did. It was an unbelievable game of punting by Ben Campbell."
"I didn't say a whole lot to them after the game, but I did say I was proud of them. The one thing I reminded them of is what our goals were. We accomplished every single one of our goals tonight. We accomplish those goals, we win football games."
"Devin Stark was the player of the game. He had three scores. The one he makes down there on the fade route; against one of the best, if not the best, cornerback in our league. I know Ryan had 100 yards and I'm proud of him, but for Devin Stark to make three touchdown catches is just unbelievable."
"Ryan White played well tonight, but for Devin Stark to play a game like he did last week and follow it up this week by making plays, that's three touchdown passes you can't get away from."
Postgame Notes
Ryan White had his 11th career 100 yard rushing performance as he rushed for 132 yards on 27 carries. On the season White has 290 yards rushing.
Devin Stark had three touchdown catches in the game. That is the first time a Governors receiver had three touchdowns in a game since 2008 when Darryl Miller had three touchdowns against Tennessee Tech.
Stephen Stansell missed a 36 yard attempt wide left, it was his third consecutive miss. (missed two at Memphis of 33 and 43 yards.
Stark in three games this season has more receptions (20) than he had in 10 games last season (19).
The Governors have now beaten Eastern Kentucky in consecutive trips to Governors Stadium. It is the first time in the Governors history they have beaten Eastern Kentucky two consecutive times at home.
The EKU victory is also the first conference home victory since 2009, the last time Eastern Kentucky visited Governors Stadium.
The victory snaps an overall 11-game losing streak for the Governors. It also breaks a seven-game conference losing streak, and a four-game home losing streak.
The Governors recorded four sacks on the night, the previous two games saw no sacks by the Governors defense.
Devin Stark's 16-yard touchdown catch at 7:11 left in the first quarter gave APSU their first lead of the season – a span of
127 minutes and 49 seconds before the Governors had a lead.
The first safety since recording one against Murray State October 14th, 2008.
Austin Peay's first halftime lead since they led 14-13 against Southeast Missouri, October 16th, 2010.
Jake Ryan moved into eighth all-time for Austin Peay's career passing yards. He now has 2241 yards passing in his career.
Ryan White moved into eighth all-time for Austin Peay's career all-purpose yards with 3019 yards.