APSU Sports Information: APSU Football

Martin, TN – UT Martin reeled off 41 unanswered points as it defeated Austin Peay State University, 61-23, Saturday afternoon, in Ohio Valley Conference action, played at Hardy M. Graham Stadium.
The loss was the Govs first in OVC play, dropping them to 2-1 in the league and 2-3 overall. UT Martin, meanwhile, goes to 2-2 in the OVC and 3-2 overall.  APSU now is 1-1 in 2011 Sergeant York Trophy games, the same mark as the Skyhawks.
Trailing 14-13 with 5:42 left in the second quarter, the Skyhawks scored 21 points in a matter of 2:09, turning two Governors turnovers into 14 points right before half to give the Skyhawks a 34-14 halftime lead.  It didn't stop there.
UTM scored the first 20 points of the second half, the streak ended only when Govs' defensive end Rip Rowan blocked an extra point, picked it up and ran the length of the field for the two-point defensive point-after conversion.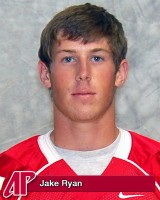 The Skyhawks jumped out on top from the outset, taking the opening and driving 66 yards in just 2:38, with Tevin Barksdale running 28 yards for the score.
After APSU missed a long field goal on its possession, the Skyhawks came right back, again driving deep into Govs territory. However, this time the Govs were able to hold UTM to a field goal.
The Govs them got their offense untracked, with a big chunk coming on a Jake Ryan pass to Devin Stark, a 33-yard connection that set up APSU's initial score. That also was a pass from Ryan to freshman Jamaar Embry, a fade pattern into the right corner of the end zone. It was second straight week Ryan hooked up with a freshman for a score—Ryan hit Darryl Clack for a 72-yard score a week ago.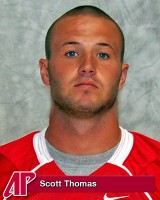 After a stalled Govs drive, a short punt gave UTM excellent field position. The Skyhawks again turned it into points, another field goal for a 13-7 lead early in the second quarter.
The Govs finally gained the lead late in the half, culminating an 11, 80-yard drive with a 15-yard pass from Ryan to Scott Thomas, who somehow managed to hang on in the end zone after being sandwiched between two defenders.
But UTM would come right back, driving 72 yards, with 51 of being covered on a Derek Carr-to-Kenny Jones pass with 3:22 left.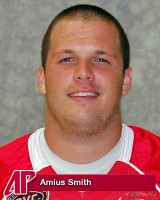 Then the Govs unraveled. Ryan threw an interception that Carr turned into a 13-yard TD pass to Stephen Shiver.
Moments later Kamron Johnson failed to catch the ensuing kickoff and UTM recovered at APSU's 28. Three plays later the Skyhawks turned it into a third TD in a little over two minutes as Carr again hooked up with Shiver with 1:13 left. APSU's once 14-13 lead now was a 34-14 UTM halftime advantage.
UTM, which blew a sizable lead to Tennessee Tech last week, didn't allow that to happen in third quarter as Carr threw a pair of TD passes while C.J. Estelle returned a booming Ben Campbell 53-yard punt 76 yards for a score.
For UTM, Carr tossed a school-record six TD passes again for 387 yards on 24 of 36 passing.  UTM finished with 552 yards in total offense, compared to 317 for the Govs.
Jones finished with seven catches for 127 yards.
For Austin Peay, Ryan finished 18 of 32 for 193 yards. Thomas led the receivers with five catches for 64 yards while Stark ended with four for 62, all coming in the first half.