Austin Peay Governors vs. Memphis Tigers
December 3rd, 2011 | Tipoff: 7:30pm | FedEx Forum | Memphis, TN

Memphis, TN – A year ago, Austin Peay seemed to find its early season stride after it played Memphis.
Even though the Governors lost 70-68 in overtime, the fact they were able to compete with the highly regarded Tigers seemed to bolster their confidence. In fact, after the loss Austin Peay reeled off six straight victories.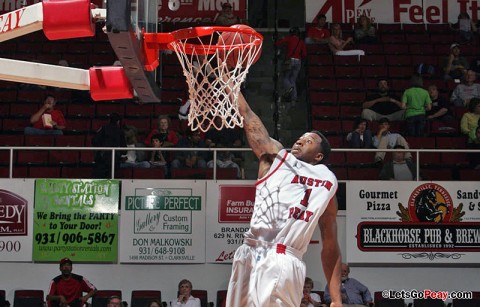 Austin Peay would love nothing better than bring that level of confidence from Saturday's 7:30pm contest at the FedEx Forum. The Governors enter 0-8 after suffering probably their most disappointing loss, a 67-59 verdict at Lipscomb, Monday night. The Govs early season shooting woes continued–39.0 percent–but the Govs also committed a season-high 23 turnovers, an extremely high number for any team, but especially one laden with experience.
Melvin Baker was the Govs' only double-figure scorer against the Bisons with 13 points, all in the second half.
Memphis, meanwhile, comes in at 3-2 on the season and ranked No. 21/22 in the country after a preseason Top 10 ranking. After owning one of the nation's top recruiting classes a year ago, they added one of the nation's best freshmen, Adonis Thomas, a forward who is averaging 10.0 points per game. The Tigers are an athletic perimeter-productive team, led by guards Will Barton (17.4 ppg) and Joe Jackson (13.6 ppg).
After allowing 97 points (Tennessee) and 91 (Georgetown), the Tigers worked at improving their defense, Monday, against Jackson State. They held JSU to 31 percent shooting and just 45 points, not good news for a Govs team struggling offensively.
The contest also serves as a return home for APSU coach Dave Loos, who played both baseball and basketball for the Tigers in the late 1960s and is a member of the school's (M-Club) Athletics Hall of Fame.
Governors Pardon
This is Austin Peay's 80th season of basketball.
Dave Loos, APSU's all-time winningest basketball coach, also is the OVC's all-time wins leader with 351 victories. He also has 433 career coaching wins.
The Dave Aaron Arena playing floor was named Dave Loos Court, Summer 2007. Loos is believed to be one of only three current Division I men's coaches who are coaching on courts that bear their respective names–Duke's Mike Krzyzewski and Syracuse's Jim Boeheim–are the other two. Valparaiso's Homer Drew, who retired after the 2010-11 season, had the floor named after him last season.
Since 1993-94, Austin Peay has finished no worse than fifth in the OVC standings.
Austin Peay has reached at least the OVC tournament semifinals in 13 of the last 17 years.
Austin Peay has made 27 straight appearances in the OVC tournament.
What You Should Know…
The Series: This is the 21st meeting between Austin Peay, a member of the Ohio Valley Conference, and Memphis, a member of Conference-USA. The Governors trail the series, 16-4, including last season's 70-68 overtime loss in the FedEx Forum. That was APSU's first meeting with the Tigers since the 2007-08 season
Deeper Meanings…
What A Win Would Mean: The Govs would gain their first 2011-12 victory. They would improve to 1-8. It would make the Govs 1-0 in December after going 0-8 in November. It would be Austin Peay's fifth victory in the series. It would give Dave Loos a 2-6 record against his alma mater. It would be the Govs' first victory against a Top 25-ranked opponent since the Govs defeated Illinois, 68-67, March 12, 1987. It would give Loos a 1-1 mark against Memphis coach Josh Pastner. It would improve APSU to 19-25 against current C-USA members. It would be Loos' 434th career coaching victory and his 352nd APSU win.
What A Loss Would Mean: The Govs would fall to 0-9 on the season, APSU's worst start in history. The Govs would fall to 4-17 all-time in the series with the Tigers. It would be their sixth straight loss in the series. It would be their 26th all-time loss against current C-USA members. It would be head coach Dave Loos' 352nd career loss and 299th Austin Peay defeat.
Steal Away
APSU saw its string of two straight double-digit steals games end at Lipscomb, Monday, but the Govs still had eight in the contest. That followed 13-steal contests against both Detroit and Middle Tennessee last week. The Govs have recorded 43
steals over the last four games.
Free-Throw Improvement
Entering Saturday's game against MTSU, the Govs were shooting a struggling 59.4 percent from the free-throw line this season. Against MTSU, APSU shot 72.7 percent (24 of 33), including 15 of 18 (83.3 percent) in the second half. On Monday, the Govs again showed improvement, making 11 of 15 free throws for 73.3 percent, including 8-of-9 in the final half.
Board Room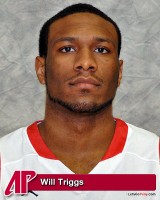 When Austin Peay grabbed 43 rebounds against Lipscomb, Monday, it represented a season high.
The Govs had four players with six rebounds or more, led by Will Triggs (eight) while Melvin Baker and TyShwan Edmondson added seven apiece and Josh Terry six.
Four On The Floor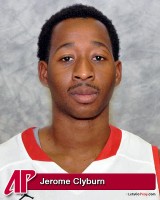 For a fifth straight game, point guard Jerome Clyburn was credited with four assists, Monday night, at Lipscomb.
In fact, Clyburn has been credited with four or more assists in seven of games this season, with his 4.1 assists-per-game average, ranking second-best in the OVC.
Block Party
When APSU was credited with eight blocked shots against Lipscomb it represented a season best.
In fact, four of the blocks came from senior forward Melvin Baker, who achieved a career best in that category.
Defensive Improvement
Not only was the 67 points allowed by Austin Peay to Lipscomb the second fewest the Govs have allowed this season but the 34.2 defensive field-goal percentage was the second time this season APSU has held an opponent to less than 40 percent shooting. In fact, the 34.2 percent Lipscomb shooting was APSU lowest defensive field goal percentage this season.
Shooting Pain
After shooting 49.3 percent from the floor against Detroit, November 23rd, the Governors reverted back to their previous shooting troubles against Middle Tennessee and Lipscomb. APSU made just 21 of 58 shots for 36.2 percent against MTSU and then connected on only 23 of 59 (39 percent) against Lipscomb, Monday. As a result, APSU has less than 40 percent in six of eight games this season and are shooting just 40.5 percent for the season.
Three-Point Woes
Since opening by making six three pointers versus MTSU, the Govs have made 24 three pointers in the last seven games, including a 2-of-17 effort (11.8 percent) against Lipscomb. How bad have the Govs struggled from three this season? They are shooting just 23.8 percent from behind the arc this season but are unranked in that NCAA statistics category. Why? To be ranked by the NCAA a team must average five made three pointers. The Govs are averaging only 3.75 made three pointers per game thus far this season.
Forcing Turnovers
In two games against Middle Tennessee this season the Governors forced 20 turnovers in each. In fact, not only did the Governors force 20 turnovers in each Middle Tennessee game, they also have forced 20 turnovers in consecutive games–Detroit had 20 turnovers in APSU's final CBE game.