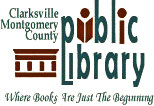 Clarksville, TN – The Clarksville Montgomery County Public Library Board of Trustees recently appointed Martha Hendricks to the full-time position of  Library Director.  Martha has previously held the positions interim director and assistant director.
She has been with the library for more than three years and worked with the Warioto Regional Library program for more than thirteen years.  She holds two degrees from the University of Kansas, a Bachelor of Arts in Linguistics and a Bachelor of Fine Arts in Painting along with a Masters of Science degree in Information Sciences from UT Knoxville.
Having grown up in a military family, Martha said she appreciates the important relationship between the military and the Clarksville-Montgomery County area. She looks forward to expanding the library's outreach.
Other priorities include facility repairs/upgrades along with  updating library electronic and online resources.
Martha can be reached via email at , or by calling 931.648.8826