Clarksville, TN– It was a more excited crowd than usual waiting in the lobby of the Roxy Regional Theatre when I arrived to attend the opening show for their production of Happily Ever After, a play which is based off of the tales of the Brothers Grimm and directed by John McDonald. Young girls and boys along with their parents were on hand to enjoy what was to be a fun and unique show.
One of the things that makes this show unique is in most plays the program follows a fixed set of scenes always in the same exact order; but in Happily Ever After the children set the course of the show.
At various points throughout the performance members of the cast would head out into the audience to let one of the young people pick a slip of paper out of a container identifying which scene would occur next. Cries of "Me! Pick Me!" could be heard from throughout the audience as boys and girls lifted their hands high in the air as they tried to get the actors attention so they could be the lucky one to choose. For this performance the tales were told in the following order: "The Elves and The Shoemaker," "The Hare and The Hedgehog," "Snow White," "Hansel and Gretel," and "The Bremen Town Musicians."
The cast was absolutely stupendous. They brought a sense of excitement and fun to their roles. My favorite parts included the giggling elves in the tale of the Elves and the Shoemaker, and wily Mr. and Mrs. Hedgehog in the story of "The Hare and The Hedgehog." Their performances kept the kids in a state of rapture as they enjoyed the action on stage. The Actors and Actresses were able to take a show aimed at kids and make it fun and entertaining for the adults as well. This production features Brandon Meeks, Josh Bernaski, Travis Kendrick, Ashley Laverty, and Heather Anderson.
The sets were deceptively simple; hanging strips of cloth to symbolize a forest, a table some stools and a wide cloth banner, a couple of cut out homes, and dwarfs. The intricacy of the costuming more than made up for the simplicity of the sets.
The show continues each Saturday at 2:00pm through February 11th. Tickets are $15.00 (adults) and $10.00 (ages 13 and under) and may be purchased online at www.roxyregionaltheatre.org, by phone at 931.645.7699, or at the theatre during regular box office hours (9:00am to 2:00pm, Monday through Friday).
Take the kids and get out to see this wonderful show!
Photo Gallery
The Cast
The Bremen Town Musicians
Donkey …………………………………………………… Brandon Meeks
Hound-Dog …………………………………………… Josh Bernaski
Cat …………………………………………………………… Travis Kendrick
Rooster ………………………………………………… Heather Anderson
Robber …………………………………………………… Ashley Laverty
The Elves And The Shoemaker
Narrator …………………………………………… Josh Bernaski
Shoemaker ………………………………………… Travis Kendrick
Wife ……………………………………………………… Heather Anderson
Elves …………………………………………………… Brandon Meeks, Ashley Laverty
Customer …………………………………………… Josh Bernaski
Hansel And Gretel
Woodcutter ……………………………………… Brandon Meeks
Woodcutter's Wife …………………… Ashley Laverty
Hansel ………………………………………………… Travis Kendrick
Gretel ………………………………………………… Heather Anderson
Witch …………………………………………………… Josh Bernaski
The Hare And The Hedgehog
Narrator …………………………………………… Josh Bernaski
Hedgehog …………………………………………… Travis Kendrick
Hedgehog's Wife ………………………… Heather Anderson
Hare ……………………………………………………… Brandon Meeks
Snow White
Narrator …………………………………………… Josh Bernaski
Queen …………………………………………………… Ashley Laverty
Snow White ……………………………………… Heather Anderson
Huntsman …………………………………………… Josh Bernaski
Dwarves ……………………………………………… Travis Kendrick
Mirror ………………………………………………… Josh Bernaski
Prince ………………………………………………… Brandon Meeks
This production is presented without an intermission…
About the Company
Heather Anderson
Heather Anderson is thrilled to be returning to the Roxy stage after playing Janis Joplin and others in Beehive: The 60's Musical and Sister Margaretta in The Sound of Music. A graduate of Belmont University, past credits include Maureen (RENT), Holly (The Wedding Singer), Fanny Brice (Funny Girl) Shelby (Steel Magnolias). Many thanks to John, Tom, Ryan and this fantastically fun cast! All love and gratitude to my insanely supportive family and friends. heatherandersononline.com
Josh Bernaski
Josh Bernaski is excited to return to the Roxy stage as a member of this season's company. Josh made his Roxy debut as Sparky in Forever Plaid and later appeared as The Wolf in Into the Woods. Other past performance credits include Troy Bolton in Disney's High School Musical and Napthali in Joseph and the Amazing Technicolor Dreamcoat with New Candlelight Theatre, and Seymour in Little Shop of Horrors and Jamie in My Fair Lady with City of Maples Repertory Theatre.
Travis Kendrick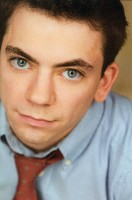 Travis Kendrick was last seen on the Roxy stage as Fezziwig and others in A Christmas Carol. Previous Roxy credits include: A T ale of Two Cities, Joseph . Dreamcoat (Joseph), Beautiful In The Extreme, The Civil War, Hamlet (Guildenstern, Osric), Once Upon A Time (Wolf, Rumpelstiltskin, Flounder, et al), Around the World in 80 Days (Passepartout) and Dracula: The Musical (Arthur Holmwood). New York City credits include: Flappers and Filosofers (Clark, choreographer; Rag 'N Bone Theatre Company) and Dotty Dot: A New Children's Musical (director, choreographer, co-writer; Rising Sun Performance Company). Some other professional credits include: Peter Pan (Nibs, Gretna Theatre), High School Musical (Zeke Baylor, Maples Repertory Theatre), Big River (Ben Rogers, Loessin Summer Theatre), Anything Goes (Steward, Barksdale Theatre) and Ragtime (Harry Houdini, Pittsburgh Playhouse). Travis received his training at Point Park University's Conservatory of Performing Arts with a B.F.A. in Musical Theatre. www.traviskendrick.com
Ashley Laverty
Ashley Laverty is thrilled to pieces to be in Happily Ever After with so many of her favorite fairy tale characters! She has previously had the chance to tour the country and share the stage with Curious George and Nikki Neutron, a superhero who saves electricity! Many thanks to John, Tom and Adam! For more information, visit www.ashleylaverty.com!
Brandon Meeks
Brandon Meeks is thrilled to be back in Clarksville performing at Roxy Regional Theatre, following his Roxy debut last season as Horatio in William Shakespeare's Hamlet and subsequent appearances in the regional premiere of Bea(u)tiful in the Extreme and, most recently, as Fred in A Christmas Carol. Originally from Louisville, Kentucky, Brandon currently lives and works in New York City. Past productions include Romeo and Juliet
About Bill Larson
Sections
Arts and Leisure
Topics
Ashley Laverty, Brandon Meeks, Bremen Town Musicians, Brothers Grimm, Elves and the Shoemaker, Happily Ever After, Heather Anderson, Josh Bernaski, Roxy Regional Theatre, Snow White, The Hare and the Hedgehog, Travis Kendrick