Written by Sgt. Kimberly Menzies
4th Brigade Combat Team, 101st Airborne Division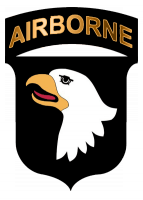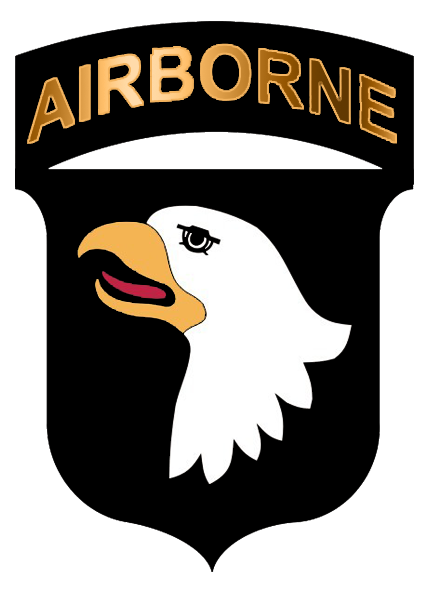 Fort Campbell, KY – Three Currahees from 1st Squadron, 61st Cavalry Regiment, 4th Brigade Combat Team, 101st Airborne Division, were awarded Army Commendation Medals for Valor, during a ceremony January 23rd, 2012, at Fort Campbell, KY.
"The great thing about today is we're recognizing three soldiers who are mentally and physically tough, they're masters of their craft, and they have proven themselves under fire," said U.S. Army Col. Valery C. Keaveny Jr., the commander of the 4th BCT, 101st Airborne Division.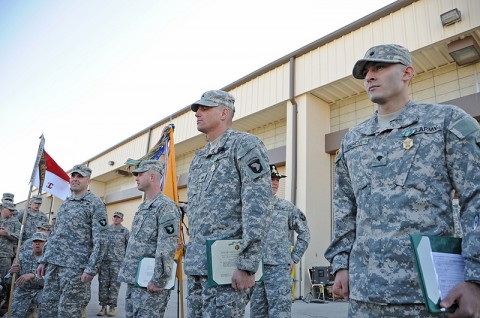 "These three are examples of all that is good about the Unites States of America," shared Keaveny. "I am incredibly honored to get the chance to serve with you and it was tremendously humbling to hang these valor awards this morning."
Getting the chance to hang these valor medals and shake your hands, is priceless, said Keaveny.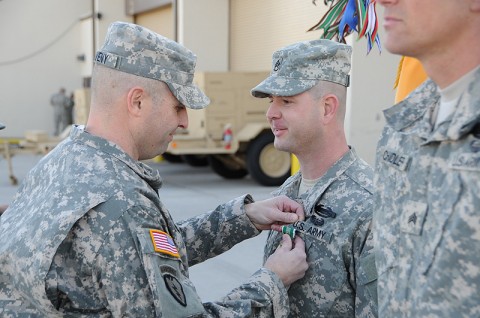 U.S. Army Staff Sgt. William D. Stuckey, a squad leader and native of New Holland, Ohio, U.S. Army Sgt. Shaun O. Chandler, a team leader and native of Tallulah, LA, and U.S. Army Spc. Michael A. Garcia, a platoon medic and native of Sullivan City, Texas, all soldiers from Troop C, 1st Squdn., 61st Cav. Regt., received the medals for their actions and courage while under accurate enemy fire June 29th, 2011 during the unit's deployment to Nangarhar province, Afghanistan.
On that afternoon, Operation Three Villages began in response to a recent influx in Taliban into the area of operation, know as Comanche. After having cleared the Hashemykheyl Village, the team began establishing a vehicle patrol base when they came under heavy fire from rocket propelled grenades, PK machine guns and small arms fire from three separate directions, describes the award summary.
"We had been hit there about two days prior, so we knew that the enemy was active in the area," said Stuckey. "We were doing a presence patrol. We pulled up and they [insurgents] started hitting us with RPGs and machine gun fire from the next ridge over."
With one squad not yet out of their vehicles, they pursued the enemy firing from the East where they then had to dismount within the village. Stuckey had two vehicles move and position themselves to provide support by fire with their crew weapons so his squad could maneuver to the enemy's position.
Once arriving at the enemy's last known location while beginning to dismount, the squad, in partnership with Afghan National Security Forces, began to conduct a battle damage assessment. They identified three insurgents, all armed with rocket-propelled grenades, moving in on his element's eastern flank.
After the threat from the three insurgents was eliminated, Stuckey had his element quickly dismount and begin an area reconnaissance to locate any additional enemy.
"We were kind of in an L-shape, looking for any insurgent bodies or more enemy," said Stuckey.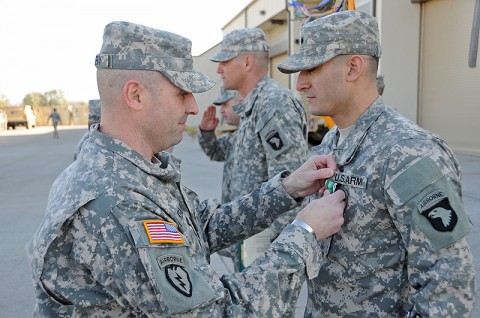 The soldiers continued searching the area until they reached their pre-established limit of advance which was located nearly a quarter of a mile south of their vehicles' location.
The squad then began to cautiously return to the vehicles when they began taking enemy fire from 40-50 insurgents nearly 300 feet from the southeastern flank.
"So parts of us were to the west and part to the east when they ambushed us. We were sort of being hit from in between and we were outnumbered," said Stuckey.
Pinned down by RPG and machine gun fire, Stuckey and the squad began returning fire and within minutes he was notified that the western portion of the element had sustained three injuries. Understanding that the casualties needed immediate medical aid, Garcia began to move across the open field to reach the wounded in spite of heavy fire.
"I went off right away with my saw gunner," shares Garcia. "They needed a medic, and they were a ways away from where we were."
Both Chadler and Stuckey accompanied by other squad members, began moving through open the terraced farm fields toward the location of the casualties to help provide suppressive fire support, while they continued to take numerous RPGs and effective machine gun fire.
"There was really no safe place to move and we couldn't get any air support at the time," said Chandler.
"I checked to see what kind of wounds they had and applied tourniquets but we were still taking fire so I knew the casualties needed to be moved," said Garcia.
Garcia assisted the injured soldiers to a school where he began to reassess the wounded and prepare them for evacuation.
After squad members and he had secured the school, Stuckey helped provide security, redistributed ammunition and helped ready the wounded for evacuation.
"At this point, I could see Garcia working on the wounded and we had set up security at the school but we were almost black on ammunition."
While Chandler and his squad members moved toward the school, his squad leader took up the rear of the element and became pinned down by RPG, PKM and small arms fire.
After hearing his squad leader call for assistance over the radio, Chandler headed back his direction and when he reached the last covered position could see the squad leader lying in a ditch with RPG rounds impacting around him.
Noticing that there was no direction in which the squad leader could attempt to move without taking heavy fire, Chandler took advantage of the enemy shooting in the other direction and selflessly exposed himself, sprinting 150 feet to the nearest covered position. From there, he laid down suppressive fire long enough for the squad leader to get up and move out of the direct line of fire. Both Chandler and his squad leader then headed toward the school to meet up with the rest of the soldiers.
A U.S. Air Force B1 Bomber (Lancer) flew low over the enemy's position in a show of force which essentially ended the engagement, said Stuckey.
When asked how it felt to be honored with the medals during the ceremony, Stuckey, Chandler and Garcia remained very humble.
"It feels good, this is not something that everyone can say they have," said Stuckey.
"I feel amazing and I am proud but honestly I was just doing my job," said Garcia.
"Yah, that's the thing, we were just doing our jobs," Chandler agrees.
All three Currahees agreed that on that day, they did not waste time pondering what actions they needed to take.
"There are really no thoughts, your training just kicks in," said Chandler.
"Its muscle memory," adds Garcia.
It is more on the fly, said Stuckey. There is nothing to get behind but you still have to get down and provide cover.
These soldiers also note that the events that day did not hinge only on their actions.
"It really was the whole platoon working together that pulled us through," said Stuckey. "That and we had a lucky day. A lucky day because we had only three injured soldiers who all survived."