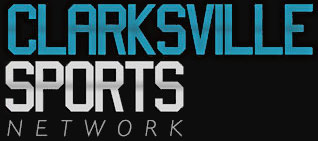 Murfreesboro, TN – Some times things just don't go the way you want them.
For the past four years, Clarksville High Girls Basketbal"s only goal was to win the Class AAA State Basketball Championship and it was special dream for the Lady Wildcats' five starters who are all moving on to play Division I basketball next year with Bashaara Graves going to Tennessee, Tiasha Gray to Austin Peay, Chandler Cooper to Florida, Tia Nicholson to Tennessee Tech and Jessy Ward to Mississippi State.
But it didn't happen their freshman year as they lost to Symrna in the Region 5-AAA semifinals. Or their sophomore year thanks to a loss to Memphis Central in the state tournament quarterfinals.
And unfortunately the past two seasons the same team ended Clarksville High's run. Last year, Science Hill beat the Lady Wildcats 52-50 in the 2011 state quarters.
And it happened again Friday night in the 2012 Class AAA State Tournament semifinals when Science Hill sent the Lady Wildcats home packing after beating them 49-45 at the Murphy Center on the campus of Middle Tennessee State University.
"Two great teams were going at it and two great teams went down to the end," Clarksville High School coach Brian Rush said. "We both had our chances at the end and it seemed like neither team wanted to take it.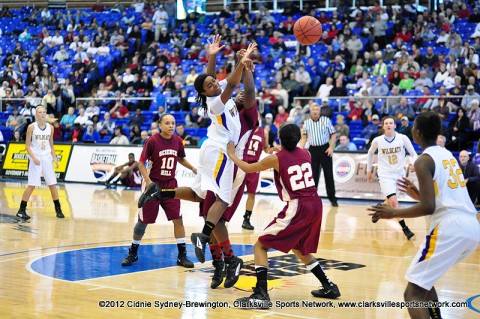 With the win, Science Hill  (38-0) will move on to play Riverdale (33-3) in the Class AAA State Championship Game at 4:00pm Saturday at Middle Tennessee State University's Murphy Center.
For Clarksville High School, its season ends at 37-1 and with the Lady Wildcats earning the District 10-AAA regular season and tournament championship, a Region 5-AAA Tournament championship and a victory in Sectionals.
Bashaara Graves had another standout game and the Class AAA Miss Basketball finalist ended her career with 23 points and 12 rebounds. Cooper added nine points, Nicholson eight, Gray scored five and Ward had two
But she also suffered because of an uncharacteristic turnover she made with less than five seconds left in the game which came after Science Hill's Morgan Knack hit two free throws with eight seconds left that put the Lady Hilltoppers up 48-45. Knack led Science Hill with a team-high 14 points. Tianna Tarter had 11 and Shy Copney, who left the game in the fourth quarter with a knee injury, added 10.
"It's so hard to see everything come to an end like that," Graves said. "It's really just hard."
Graves turnover forced Cooper to have to foul and that sent Tianna Tarter to the line where she hit one free throw with five seconds left and made it the final.
"We had a good four years," Graves said. "We all still love each other no matter what. We look back at the past four years and we put Clarksville on the map. And no matter what we still have a lot to hold up our heads for. We just didn't make it. We just didn't do what we wanted to do."
Box Score
Science Hill 49, Clarksville High 45
Officials: Will Noe, Shanne Wilson, Greg Geren
Technical fouls: Science Hill-None. Clarksville-None.
Attendance:


Score by Periods

                1st  2nd  3rd  4th   Total
Science Hill..................    8   19   12   10  -   49
Clarksville...................   13   11   12    9  -   45
Official Basketball Box Score


Science Hill vs Clarksville High School
03/09/12 2:30pm at Murphy Center, Murfreesboro, TN.

------------------------------------------------------------------------------
VISITORS: Science Hill 38-0
                          TOT-FG  3-PT         REBOUNDS
## Player Name            FG-FGA FG-FGA FT-FTA OF DE TOT PF  TP  A TO BLK S MIN
10 Tarter, Tianna...... *  5-8    0-0    1-5    1  4  5   1  11  5  3  0  3  31
14 Reid, Enjelica...... *  2-2    0-0    1-1    2  1  3   4   5  1  3  0  1  21
24 Knack, Morgan....... *  4-8    4-6    2-3    0  0  0   0  14  1  1  0  0  24
44 Copney, Shy......... *  4-8    2-5    0-0    2  6  8   2  10  0  6  1  0  24
52 Lyon, Gabby......... *  1-2    0-0    0-0    1  2  3   3   2  0  0  0  4  28
11 Kennedy, Jalessa....    0-1    0-1    0-0    0  0  0   1   0  0  1  0  0   3
22 Gregory, Keisha.....    1-7    1-3    0-0    0  0  0   0   3  1  1  1  0  16
30 Smith, Shae.........    2-2    0-0    0-0    0  0  0   1   4  0  0  0  0  13
   TEAM................                            2  2
   Totals..............   19-38   7-15   4-9    6 15 21  12  49  8 15  2  8 160

TOTAL FG% 1st Half: 11-20 55.0%   2nd Half:  8-18 44.4%   Game: 50.0%  DEADB
3-Pt. FG% 1st Half:  5-10 50.0%   2nd Half:  2-5  40.0%   Game: 46.7%   REBS
F Throw % 1st Half:  0-2   0.0%   2nd Half:  4-7  57.1%   Game: 44.4%    2
--------------------------------------------------------------------------------
HOME TEAM: Clarksville 37-1
                          TOT-FG  3-PT         REBOUNDS
## Player Name            FG-FGA FG-FGA FT-FTA OF DE TOT PF  TP  A TO BLK S MIN
05 Cooper, Chandler.... *  3-9    1-4    2-2    0  2  2   1   9  0  1  0  3  30
11 Graves, Bashaara.... *  7-13   0-0    9-12   6  6 12   4  23  2  4  0  1  32
12 Ward, Jessy......... *  1-8    0-5    1-2    1  2  3   1   3  0  1  0  0  28
14 Gray, Tiasha........ *  0-5    0-0    2-3    2  2  4   4   2  0  2  0  2  32
32 Nicholson, Tia...... *  4-7    0-0    0-0    2  2  4   2   8  0  1  0  1  27
10 Baggett, Ella.......    0-0    0-0    0-0    0  0  0   0   0  0  1  0  0   0
20 Bell, Ramaja........    0-0    0-0    0-0    1  0  1   0   0  0  0  0  0   6
33 Rozar, Sierra.......    0-0    0-0    0-0    0  0  0   1   0  0  1  0  0   5
   TEAM................                         2  2  4
   Totals..............   15-42   1-9   14-19  14 16 30  13  45  2 11  0  7 160

TOTAL FG% 1st Half:  9-22 40.9%   2nd Half:  6-20 30.0%   Game: 35.7%  DEADB
3-Pt. FG% 1st Half:  1-6  16.7%   2nd Half:  0-3   0.0%   Game: 11.1%   REBS
F Throw % 1st Half:  5-6  83.3%   2nd Half:  9-13 69.2%   Game: 73.7%    3