Listen to "From the Sideline" after the game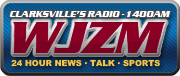 Clarksville, TN – Clarksville High School takes on Memphis Central in a Boy's Class AAA State Tournament semifinal game at 1:30pm in Middle Tennessee State University's Murphy Center
Clarksville High (26-11) beat Cherokee 53-47 in their quarterfinal game, while Memphis Central beat Ooltewah 67-54 in their quarterfinal game.
The Wildcats lost in the first round last year and in 2008 and in the championship game after two overtimes to Maryville in 2007.
You can watch the TSSAA feed of the game live at here  or listen to WJZM 1400 AM or www.WJZM.com.
Then listen to 'From the Sideline' with James Horne and Wade Neely right after the game today and everyday from 3:00pm to 6:00pm Monday through Friday. Here the Bone Show from 6:00am to 9:00am Monday on WJZM.
Read www.ClarksvilleSportsNetwork.com for the full report on the game.
The game feed is brought to you by:
Harris One-Hour Heating & Air Conditioning
Heritage Bank
Clarksville Online