APSU Sports: Austin Peay Football

Clarksville, TN – Defensive line coach Ryan Taylor, who has coached at his alma mater Austin Peay State University since 2008, has resigned to accept a high school coaching position in Nashville.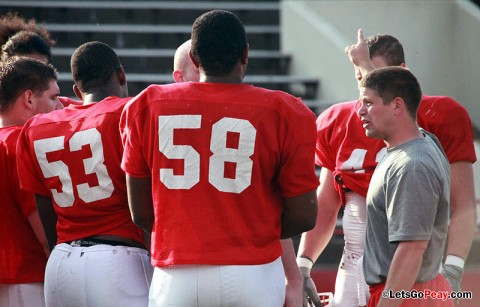 A former football star from 2001-04 during the Governors non-scholarship era, Taylor returned to his alma mater in 2008 as linebacker coach. He shifted to defensive line in 2009. Taylor also is in charge of the football program's strength and conditioning efforts.
"He did it for his family," APSU coach Rick Christophel said. "His wife, Kim, is planning on going back to school and this was just too good an opportunity to pass up for him in relation to that. We are certainly disappointed to lose him, but totally understand the reasons.
"He is hard-working young coach-anything he did he worked at. He was very intense and demanded a lot of his players. He was a superior recruiter. But the thing that is going to be hard to replace is that fact he was in charge of our strength and conditioning program."
Austin Peay will begin an immediate search to find Taylor's replacement and that new coach certainly will not be left with an empty cupboard. The Govs defensive line returns pretty much intact from a year ago-although some positions switches were implemented-and this year's line rotation will have only two seniors, defensive ends Zac Burkhart and Anthony Marion.
"When we switched Ryan over to the defensive line he was kind of learning on the fly," Christophel said. "He was the type who tried to learn, met with other defensive line coaches to gain more insight, and now he was molding that line into his personality.
"He had a lot of pups who are now just starting to grow up. And now the next coach is going to be taking over a group, other than a couple of seniors, that is pretty much is going to be back the year after that, with even more young players, some we redshirted this year, beyond that."
Taylor came back to Clarksville after serving two seasons as an assistant coach at North Greenville University, Tigerville, SC.  He began his coaching career in 2005 as an APSU graduate assistant, coaching linebackers. That was after an outstanding career at APSU.
As a Governor, Taylor was one of APSU's leading tacklers his last three seasons as a rover/outside linebacker.  During his career, Taylor had a total of 21 tackles for loss, seven interceptions-two returned for touchdowns-four fumble recoveries and seven forced fumbles. He also blocked a kick. He owns APSU's single-season record for interception returns for touchdowns (2/2002) as well as the career mark (3) in that category.
But Taylor also accomplished much off the field. The mathematics major was an eight-time member of of the Athletics Director's Honor Roll (3.0 GPA) and was an Academic All-America nominee.
As a result of his outstanding career both on and off the field, Taylor was named APSU's 2005 Male Joy Award recipient as the most valuable senior athlete.