Get discounted tickets for the hottest concerts and more!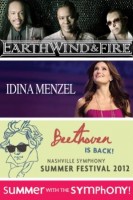 Nashville, TN – Do you like the classics? AARP does. Whether you're talking the classic American band "Earth Wind & Fire," the classy Broadway and TV star Idina Menzel or the classical sounds of Beethoven, we've got you covered in June. AARP and the Nashville Symphony are teaming up for the first time for our "Summer with the Symphony!"
AARP members can receive $5.00 off any ticket for Menzel's special performance with the Nashville Symphony Orchestra at the Woods Amphitheater at Fontanel on June 16th. The Tony Award-winning star of Broadway's Wicked and television's hit show Glee will perform a diverse mix of classic pop and musical theater favorites, along with a fresh spin on some contemporary hits.
Would you rather groove along with Rock & Roll Hall of Famers Earth Wind & Fire? AARP members can get the same $5 discount for tickets to their show with the Symphony Orchestra – also at the Woods Amphitheater at Fontanel – on June 23rd.
Or, if your tastes run toward classical music, you will be delighted to hear that "Beethoven is BACK!" AARP members can get $5.00 off the purchase of tickets to any of three shows featuring the music of the master composer at the Schermerhorn Symphony Center (June 15th, 22nd or 30th).
You can order your tickets online at the Nashville Symphony web site, order by phone at 615.687.6400 or get tickets at the box office, while supplies last. Use the promo code AARP.
We hope to see you at the symphony's series of community concerts at local parks throughout Middle Tennessee during the month of June. We'll be there with fun giveaways, door prizes and more!
Please join Associate Conductor Kelly Corcoran for these great programs featuring a mix of beloved orchestral favorites, classic tunes and unforgettable movie music.
June 7th at 8:00pm: East Park (Program: Celebrating the Film Music of John Williams)
June 8th at 8:00pm: Bicentennial Mall State Park (Program: Celebrating the Film Music of John Williams)
June 10th at 7:00pm: Crockett Park, Brentwood (Program: Celebrating the Film Music of John Williams)
*June 12th at 7:00pm: Cumberland University, Lebanon (Program: Symphonic Celebration!)
June 19th at 7:30pm: Centennial Park (Program: Shakespeare at the Symphony)
*All the concerts are free, except the show at Cumberland University, where the $5.00 fee is donated to a local arts organization.
Like us at www.facebook.com/aarptennessee and www.facebook.com/nashvillesymphony or follow us at www.twitter.com/aarptn and www.twitter.comnashvillesymph (hashtag #summerwithsymphony) to keep up with all the fun and perhaps score a couple of free tickets to one of the shows!
Learn more about our "Summer with the Symphony" at www.nashvillesymphony.org or www.aarp.org/tn.
About AARP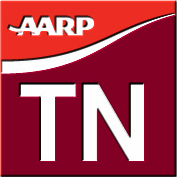 AARP is a nonprofit, nonpartisan social welfare organization with a membership that helps people 50+ have independence, choice and control in ways that are beneficial and affordable to them and society as a whole. AARP does not endorse candidates for public office or make contributions to either political campaigns or candidates. We produce AARP The Magazine, the definitive voice for 50+ Americans and the world's largest-circulation magazine with over 35.1 million readers; AARP Bulletin, the go-to news source for AARP's millions of members and Americans 50+; AARP VIVA, the only bilingual U.S. publication dedicated exclusively to the 50+ Hispanic community; and our website, AARP.org. AARP Foundation is an affiliated charity that provides security, protection, and empowerment to older persons in need with support from thousands of volunteers, donors, and sponsors. We have staffed offices in all 50 states, the District of Columbia, Puerto Rico, and the U.S. Virgin Islands.
About the Nashville Symphony
The GRAMMY® Award-winning Nashville Symphony has earned an international reputation for its recordings and innovative programming. With more than 140 performances annually, the 85-member orchestra offers a broad range of classical, pops and jazz, children's concerts and community engagement programs. The Symphony premiered a commission by Terry Riley at Carnegie Hall in May 2012, as part of the Spring for Music festival. As a national and international ambassador for Tennessee, the Nashville Symphony has received far-reaching acclaim for its 19 recordings on Naxos, making the ensemble one of the most active recording orchestras in the country. These recordings have received a total of 14 GRAMMY® nominations and seven GRAMMY® Awards.