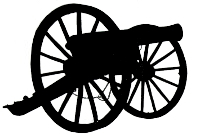 Clarksville, TN – The Friends of Fort Defiance, including Porter's Battery and Baxter's Battery, will hold their "March to the Past" fundraising event at Fort Defiance Civil War Park and Interpretive Center on June 23rd from 10:00am-5:00pm.
Activities will include living history demonstrations such as quilting, Civil War medicine and clothing, rolling rifle cartridges, games for children, and firing demonstrations.
The Friends will be selling hot dogs and baked goods to support Fort Defiance.