APSU Sports: Austin Peay Men's Basketball

Clarksville, TN – Corey Gipson, who helped lead Austin Peay State University's mens basketball team to consecutive Ohio Valley Conference championships in 2002-03 and 2003-04, is returning to his alma mater as assistant basketball coach.
Gipson, who spent the last two seasons as associate head coach at North Carolina Greensboro, will replace Scott Combs, who left earlier this spring to become head coach at Martin Methodist.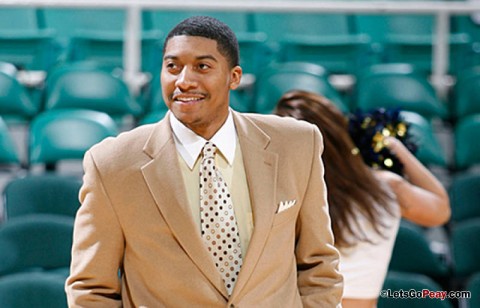 "I am real excited about Corey coming back here," APSU coach Dave Loos said. "He really has done well in this business and really earned himself a very fine reputation as a recruiter.
"The people who knew Corey when he was here as a player know that he is just a solid human being. He is a great guy. Corey is very competitive, ambitious, just a hard worker."
Gipson recently left UNC Greensboro for Furman after a head-coaching change was made at the North Carolina school. However, when Loos beckoned, the idea of returning to his alma mater and closer to home (Sikeston, MO) was just too appealing.
"What Corey said to me was when you leave skin somewhere that means something," Loos said. "Those people who saw Corey play and compete know he definitely left some skin here. He played hard, he competed hard so he has a special feeling for this place. That goes a long way as far as what you are going to put into something."
"The main attraction is there is no place like home," Gipson said. "You never forget what home has done for you and the experiences you had at the place where you got your start. I often revert back to the experiences at Austin Peay and the success of the basketball program, making the NCAA run and the NIT run, going undefeated in the Ohio Valley Conference.  I often revert to those feelings, those experiences, to get me through life.
"I feel like I have an obligation to the program. Even though I have been other places and my heart has been in those programs while working there, my heart always has been with Austin Peay.
"When this opportunity came about it was a no brainer. I got my undergraduate degree here. I got my master's degree here. What place would you rather be than one that helped developed you as a person, helped developed you as a coach and helped prepare your career?"
Gipson was named to the UNCG staff as an assistant coach on June 20th, 2009 and a year later was elevated to associate head coach. A strong recruiter, Gipson earned his promotion to associate head coach mainly due to his exceptional recruiting skills. Along with being the program's top recruiter, Gipson worked with the frontcourt players last season.
Gipson earned both his bachelor's and master's degrees from Austin Peay, earning the first in 2004 and completing his graduate work in 2005. He also earned an associate's degree from Three Rivers Community College in Poplar Bluff, MO, before transferring to Austin Peay.
Before going to UNCG, he spent four seasons on the staff at Division II Virginia State University in Petersburg, VA. He coordinated the Trojans' recruiting efforts for head coach Tony Collins, APSU's longtime assistant coach who had recruited Gipson out of junior college.
"Corey did a great job for Tony and (former head coach) Mike Dement was really high on the work he did for him at UNC Greensboro," Loos said. "Several times while we were out at the same place he told me about the great job he was doing.
"I think Corey's strong suit is as a recruiter. One thing he will add is developing very good relationships in areas where we haven't been traditionally–he has been strong in North Carolina, Virginia, the D.C. area and Georgia.
As a player at Austin Peay, Gipson was a two-year starter at point guard, helping the Govs become the top defensive team in the Ohio Valley Conference in 2002-03 and 2003-04. The Govs went 45-18 in his two seasons—Gipson never lost a home game in two seasons, the Govs going 27-0 over that timeframe.
He averaged 7.7 points, 2.1 assists and 2.3 rebounds per game during his career. He also made 94 three pointers in his career, shooting 34.1 percent from three-point range.
In his first game with Austin Peay, he led the way with 19 points as the Govs upset Memphis to begin a run that ended in an NCAA tournament appearance. They were a perfect 16-0 in the OVC during his senior season. The Govs were upset in the OVC finals that year, but earned a spot in the NIT, downing Belmont in the opening round and nearly knocking off George Mason – just two years before the Patriots' Final Four run.
A native of Sikeston, MO, Gipson was a Missouri Mr. Basketball nominee as a senior at Richland High School, averaging 30.9 points per contest. He earned all-state honors that season.
"My approach is going to be to do whatever that is asked of me to assist with the success of this program," Gipson said. "Whatever is asked of me I am going to go above and beyond because this program went above and beyond for me.
"This situation is a unique one for me. Normally when you got to a place you want to get acclimated, meet the right people, make your presence known so they get to know you. Here, I feel like I am already acclimated, that I never left.  To me it is home. I am euphoric. There is no water than the taste of water at home."