APSU Sports: Austin Peay Volleyball

Tuscaloosa, AL – Sophomore outside hitter Jada Stotts recorded a career-high 27 kills but Austin Peay State University's volleyball team could not find a way past host Alabama, falling in four sets (23-25, 21-25, 25-14, 22-25) in the Hampton Inn Bama Bash, Saturday night, at Foster Auditorium.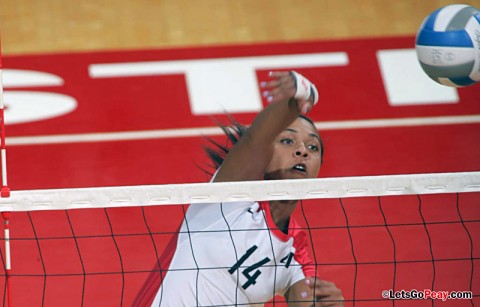 Stotts' match-best 27-kill performance was the eighth-best single-match effort in Austin Peay history and the most kills since Stephanie Champine's 29-kill outing during the 2009 season. Stotts scored seven kills in the opening set followed by eight kills in the second frame. She was held to four kills in the third set, which Austin Peay won. Stotts came back with eight kills in the final set.
Alabama (8-1) roared out to a quick 8-1 start in the opening set and forced an Austin Peay timeout. The Lady Govs slowly recovered and scored three consecutive points to close within three points, 14-11, and force an Alabama timeout.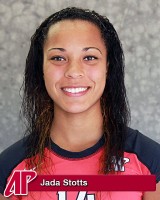 Following the timeout the teams traded points until back-to-back kills by Stotts gave APSU a 21-20 lead. Another Alabama timeout turned the momentum as it scored four straight points to take a 24-21 lead to take control en route to a 25-23 win.
The second set was a wild affair with 16 ties and eight lead changes as neither team was able to build more than a two-point lead until near the set's end. With the set tied 21-21, Alabama's Kayla Fitterer scored three kills as part of a 4-0 run to seal the 25-21 Alabama victory.
Austin Peay (3-9) again fell behind quickly in the third set, trailing Alabama 5-1. The Lady Govs responded with a 5-0 lead to tie the set 6-6. The teams traded points to 10-10 before Austin Peay took control. A 6-1 burst was followed by a set-ending 8-1 run as the Lady Govs rolled to an impressive 25-14 win.
The fourth set was as wild as the second frame with 15 ties and four lead changes. Unlike the second set, Alabama was able to build a three-point lead at 16-134. Austin Peay responded with a 7-3 run to take a 20-19 lead and they held a 21-20 lead. But Alabama charged to the close with a 5-1 burst to end the match with a 25-22 victory.
Stotts' 27-kill performance was the night's highlight but she was aided by an impressive performance by sophomore setter Cami Fields who posted 52 assists on APSU's 57 kills and chipped in 10 digs and two blocks. Fields also helped senior outside hitter Nikki Doyle record 11 kills and sophomore Liz Landon post a 10-kill effort.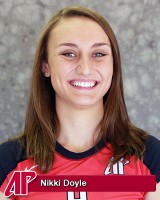 "Cami did an outstanding job setting the hitters and making great decisions all match," said Lady Govs head coach Taylor Mott. "Jada and Nikki stayed aggressive throughout the match. But we are playing much better as a team, especially on defense where we were much improved in both matches today."
Fitterer led Alabama's offense with 18 kills and was one of four players to reach double-digit kill territory for the host Crimson Tide. Alabama outhit Austin Peay by a narrow 65-57 margin, but surrendered 23 errors against Austin Peay's 16 to negate most of the advantage.
Austin Peay continues its stay at the Hampton Inn Bama Bash with a 9:00am, Saturday contest against Lamar. They follow that with a 4:30pm contest against Alabama State to wrap up their stay.
Box Score
Austin Peay Lady Govs
Austin Peay vs Alabama
(Sept. 7th, 2012 at Tuscaloosa, AL)
Austin Peay
ATTACK
SET
SERVE
SRV
DEF
BLOCK
GEN
##
Player
SP
K
E
TA
PCT
A
SA
SE
RE
DIG
BS
BA
BE
BHE
Points

1

FIELDS, Cami

4

1

0

5

.200

52

1

0

0

10

0

2

2

0

3.0

5

SAIN, Alex

4

6

0

15

.400

1

0

1

0

13

0

4

0

0

8.0

8

LANDON, Liz

4

10

2

28

.286

0

0

1

0

6

0

3

0

0

11.5

9

DOYLE, Nikki

4

11

3

40

.200

2

0

1

1

14

1

0

1

0

12.0

12

HENDERSON, Lauren

4

2

1

10

.100

0

1

1

0

2

2

3

1

0

6.5

14

STOTTS, Jada

4

27

9

59

.305

0

1

0

2

15

0

0

2

0

28.0

2

HULL, Calyn

1

0

0

0

.000

0

0

0

0

0

0

0

0

0

0.0

3

ADAMS, April

4

0

1

1

-1.000

0

0

0

1

14

0

0

0

0

0.0

Totals

4

57

16

158

.259

55

3

4

4

74

3

12

6

0

69.0

TOTAL TEAM BLOCKS: 9.0
TEAM ATTACK BY SET
Set
K
E
TA
Pct
Sideout
Pct

1

16

5

44

.250

14-24

58%

2

14

4

41

.244

14-25

56%

3

14

2

27

.444

11-14

78%

4

13

5

46

.174

15-25

60%

54-88

61%

SET SCORES
1
2
3
4
TEAM RECORDS

Austin Peay

(1)

23

21

25

22

3-9

Alabama

(3)

25

25

14

25

8-1
Alabama
ATTACK
SET
SERVE
SRV
DEF
BLOCK
GEN
##
Player
SP
K
E
TA
PCT
A
SA
SE
RE
DIG
BS
BA
BE
BHE
Points

1

Sierra Wilson

4

2

2

13

.000

55

0

0

0

5

0

2

0

0

3.0

3

Andrea McQuaid

4

12

4

34

.235

1

1

2

0

14

0

0

0

0

13.0

6

Kryssi Daniels

4

0

0

0

.000

1

2

1

1

11

0

0

0

0

2.0

7

Kayla Fitterer

4

18

5

55

.236

0

0

0

0

12

1

0

0

0

19.0

9

Leigh Moyer

3

4

1

7

.429

0

0

2

0

0

0

0

1

0

4.0

14

Katherine White

4

13

1

17

.706

0

0

0

1

2

0

2

0

0

14.0

2

Cristina Arenas

4

0

0

0

.000

3

1

0

1

27

0

0

0

0

1.0

10

Kanesha Burch

2

0

1

4

-.250

0

0

1

0

0

0

0

0

0

0.0

12

Laura Steiner

3

11

4

25

.280

0

0

0

0

0

0

0

0

0

11.0

15

Pricilla Duke-Ezeji

2

5

5

15

.000

0

0

0

0

1

0

0

0

0

5.0

Totals

4

65

23

170

.247

60

4

6

3

72

1

4

1

0

72.0

TOTAL TEAM BLOCKS: 3.0
TEAM ATTACK BY SET
Set
K
E
TA
Pct
Sideout
Pct

1

18

6

49

.245

15-24

62%

2

17

4

43

.302

14-21

66%

3

11

7

28

.143

11-25

43%

4

19

6

50

.260

15-22

68%

55-92

59%

Site: Tuscaloosa, Ala. (Foster Auditorium)
Date: Sep 07, 2012 Attend: 1183 Time: 1:50
Referees: Margie Ray, David Duferne


| | | | | | |
| --- | --- | --- | --- | --- | --- |
| | 1 | 2 | 3 | 4 | Total |
| Tie scores | 4 | 16 | 5 | 15 | 40 |
| Lead changes | 2 | 8 | 1 | 4 | 15 |