APSU Sports: Austin Peay Women's Soccer

Clarksville, TN – Members of Austin Peay State University women's soccer team were guests at Dover Elementary School, Friday, to talk to the school's fifth-grade class about soccer, school and life experiences.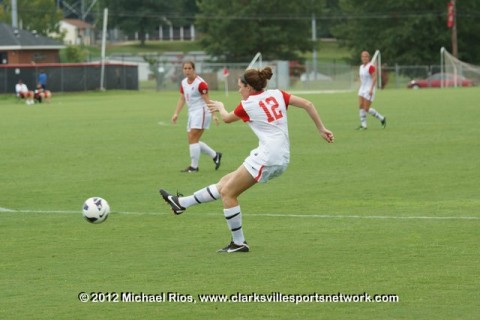 Tatiana Ariza, Natalia Ariza, Emily Kink and Cory Osborn were invited by Dover Elementary principal Brian Saunders, an Austin Peay graduate, to talk to the students about their experiences as college soccer players. The Arizas' stories, especially from the 2012 Olympics in London, particularly were illuminating, as were the questions about their native Colombia.
"We got there and we were walking down the hall and heard a lot of 'Let's Go Peay' chanting," said head coach Kelley Guth. "It was a really cool set-up. It was a fun thing to get out in the community and experience, and everyone had a lot of fun with it."
In spring action, the Lady Govs defeated Vanderbilt 2-1, Sunday, at Morgan Brothers Field. Austin Peay continues the spring schedule when it hosts Western Kentucky, 5:00pm, April 6th, in Clarksville, TN.