Nashville, TN – The Tennessee Wildlife Resources Agency has been honored with the Teaming with Wildlife Award for Partnerships for its collaborative research on hellbenders in Tennessee.
Bill Reeves, TWRA Chief of Biodiversity, received the award in a ceremony in Washington, D.C. at the Rayburn House Office Building. The award is the culmination of extensive work on the current status of the species of giant salamanders that is endemic to eastern North America.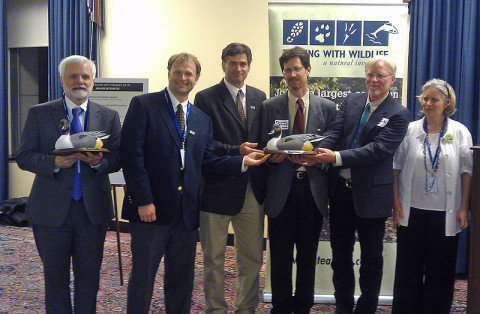 Hellbender populations were historically abundant in Tennessee and other states. Surveys conducted over a two-year period verified that hellbender distribution and abundance within its historic range have severely declined over the last 20 years.
A team at the Nashville Zoo is developing new reproductive technologies to breed hellbenders in a laboratory setting. It is the goal that when perfected, large numbers will be produced and genetically diverse offspring will be reintroduced into the wild. The Nashville Zoo project launched about five years ago with three male hellbenders and one female from a healthy wild population.
Other partners with the TWRA in the project are Lee University, Middle Tennessee State University, Nashville Zoo, Orianne Society, University of Tennessee, Antwerp Zoo, and the University of Idaho.
Hellbenders are the largest salamanders in North America, and the third largest in the world. Hellbenders can grow to a total length of 29 inches with a weight ranging from 3.3 to 5.5 pounds. They are red-brown in color with a paler under-belly.