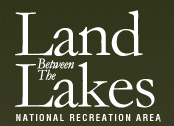 Golden Pond, KY – Visit Land Between The Lakes (LBL) National Recreation Area to celebrate Earth Day! Programs are being offered at Woodlands Nature Station (NS), The Homeplace (HP), Golden Pond Visitor Center (GPVC), South Welcome Station (SWS), Hematite Lake Trailhead (HLT), and Turkey Bay OHV Area throughout the weekend.
"We will be highlighting LBL's conservation and environmental education programs, as well as the wonderful spring wildflowers that appear all over the area this time of year," said Cindy Earls, Friends of LBL Special Events Coordinator.
Earth Weekend events provide individuals and families opportunities to help clean-up Turkey Bay OHV Area, go fishing, take hikes and learn about native wildflowers, discuss herbal remedies, learn how to set up your own organic garden, and watch as The Homeplace sheep get their annual haircut.
"If you are interested in native wildflowers and plants, you won't want to miss this weekend at Land Between The Lakes," said Brooke Gilley, naturalist at NS. "The variety of programs offered makes Earth Weekend a great experience for the whole family!"
Activities Include
Saturday, April 13
9:30am-3:00pm – Turkey Bay Spring Clean-up (Turkey Bay OHV Area)
10:00am-12:00pm & 1:00pm-4:00pm –  Herbal Medicine, Invited artist-Denise Berryhill (HP)
(11:00am & 2:00pm mini-seminars)
10:00am-12:00pm & 1:00pm-4:00pm – Organic Gardening, Invited artist-Charles Berryhill (HP)
(1:00pm mini-seminar)
10:00am-12:30pm – Dr. Chester's Wildflower Walk – limited to first 25 participants, sign up begins at 9am (SWS)
10:00am-12:00pm & 1:00pm-4:00pm –  Sheep Shearing, Invited artist-Gary Lawson, Sheepshearer (HP)
10:00am-5:00pm – Plant Native! Wildflower Sale (NS)
11:00am – The Power of Planting Native (NS)
1:00pm – "Bee" Amazed (NS)
2:00pm-4:00pm – Take a Walk on the Wildflower Side! (HLT)
Sunday, April 14th
10:00am-5:00pm– Plant Native! Wildflower Sale (NS)
1:00pm-3:00pm –  Wildflower Folklore Hike (HLT)
1:00pm-4:00pm – Family Fishing Afternoon (GPVC)
2:00pm-4:00pm – Name That Plant (HP)
2:00pm-4:00pm – The Herb Garden (HP)
3:30pm – My First Garden (NS)
General admission prices for The Homeplace and Nature Station are $5.00 ages 13 & up, $3.00 ages 5-12, and free ages 4 & under. Call 270.924.2020 for additional information, reservations, and special program costs.
Come Outside and Play at Land Between The Lakes National Recreation Area.  Managed by the Forest Service, U.S. Department of Agriculture, Land Between The Lakes provides outdoor recreation, lake access, and environmental education for the public to enjoy.
Visitors are encouraged to review the official website at www.lbl.org often for Calendar of Events, updates on programs and policies, safety information, maps, temporary trail and road closures, and additional information, or call 800.LBL.7077 or 270.924.2000. Follow LBL on @LBLScreechOwl or @LandBtwnLakes..