Tempe, AZ – With a change in time zones and weather, Austin Peay State University men's golf team arrived in Arizona, Monday night, as it prepares for this week's NCAA Golf Regional, to be played Thursday-Saturday at the ASU Karsten Golf Course.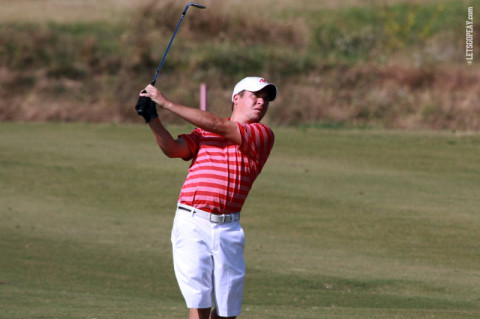 With the help of a former Clarksville resident, pharmacist Mike Young, the Governors were able to get the feel of the climate and drier course conditions with a Tuesday practice round at Grayhawk Golf Club in Scottsdale, AZ. Grayhawk has been the site of multiple PGA events in the past. The Govs then will play a practice round at ASU Karsten Golf Club, the site of the regional, Wednesday morning.
"The guys are excited but confident to show what they can do," APSU golf coach Kirk Kayden said. "We have never played desert golf before so getting in a couple of rounds will be helpful. The drier conditions are something they will have to adjust to, especially with the faster greens."
All year long the Governors have excelled in adverse weather conditions, resulting in a school-record six tourney titles, including the Ohio Valley Conference tournament. But those adverse conditions usually were cold and wind. This week the Governors will have to adjust to extreme heat. Temperatures are expected to hover at the 100 degree mark during all four days, including Wednesday's practice round.
"It will be at the other extreme in this tournament," Kayden said. "The key will be for our guys to stay hydrated and keep their focus, play one shot at a time."
The Governors were awarded a No. 12 seed after earning the OVC's automatic bid with their recent tourney championship. UCLA is the No. 1 seed, followed by Duke, Georgia, Texas A&M, Clemson, Vanderbilt, UCF, North Carolina, host Arizona State, Kennesaw State, Arizona, the Governors, New Mexico State and Lehigh.  The top five teams from each of the six regionals will advance to the NCAA championship, May 28th – June 2nd, at the Capital City Club/Crabapple Course in Atlanta, GA.
The Governors will utilize the same lineup that carried them to the OVC title, featuring senior Dustin Korte, juniors Anthony Bradley and Maro Iten, sophomore Tucker Wallace and freshman Chris Baker.
"Our guys are focused," APSU coach Kirk Kayden said. "We played a strong schedule enough this year that it should help them in a situation like this—they are confident and are looking forward to playing this week."