Tempe, AZ – Playing his first NCAA tournament round, senior Dustin Korte tied an Austin Peay State University 18-hole record by shooting a 6-under 64 to propel the Governors into third place at the Tempe Regional, Thursday.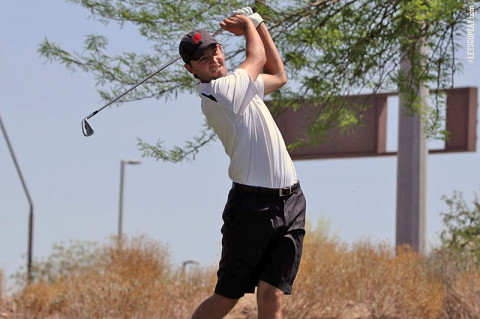 Junior teammate Marco Iten also was superb, shooting a 2-under 68, as the Governors shot a 1-under 279 on the day. They sit 11 shots back of favorite UCLA, with Duke second at 278. Georgia, Texas A&M, Clemson, North Carolina and Central Florida all sit at even-par 280.
But the story of the day was Korte, who was sizzling as the Arizona desert heat. The Metropolis, IL, native ended the first round on top of the leaderboard with UCLA's Pontus Widegren.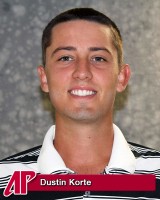 Playing bogey-free golf, he got rolling on the second hole by rolling in a birdie putt on the par-4, No. 11 hole and three holes later he chipped in for an eagle on the par 5 14th.  With a birdie on the par-3 No. 16, he was able to play the back nine at 4-under 32.
Korte then birdied the first two holes of the front side to go 6-under, coming just short of breaking the 64 first set by Yoshio Yamamoto (October 10th, 2005) at the Xavier Invitational and tied three years later by Erik Barnes in the same tourney.
"An incredible performance by Dustin," APSU coach Kirk Kayden said. "And doing what he did in a pressure-filled situation of playing in your first NCAA tournament round. I just cannot say enough about the performance that Dustin had. It was phenomenal effort on a very tough course with some very difficult pin placements.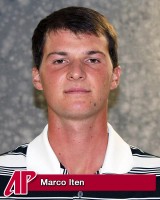 "Marco hung in there and got a 2-under after shooting a 3-under on the easier (back nine) side and 1-over on the front nine. He is kind of disappointed in that."
Still, Iten is tied for sixth overall. Fellow junior Anthony Bradley sprayed the ball all over the course, Thursday, finishing with an uncharacteristic seven bogeys. But he also had four birdies in shooting a 3-over 73. However, it was Bradley's 20-foot par putt on No. 9 that has the Governors grouped with UCLA and Duke, Friday.
Sophomore Tucker Wallace failed to let a double bogey on his first regional hole get him down. In fact, the Dickson, TN,  native was 3-over after three holes but offset another bogey on back nine with a birdie on No. 17 to put him 3-over 39 on the back side.
On the front side, with birdies on Nos. 3 and 6, he was able to play at front side at just 1-over 35.
Freshman Chris Baker struggled getting anything going on the day, with just one birdie to with four bogeys and two double bogeys to finish at 77.
"We had a couple of guys that just grinded it out to keep us in there," Kayden said. "Tucker doubled the first hole and then played at 2-over the rest of the way. Anthony wasn't quite himself today but still found a way to shoot a 73.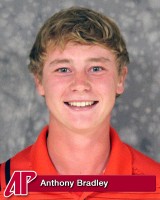 "The classic saying in golf is that you can't win it on the first day, but you sure can lose it. We certainly didn't do that today."
In fact, when looking at the Golfstat.com leaderboard, all the Top 50 ranked teams in the field are bunched atop of the leaderboard (UCLA is No. 3 nationally and Duke is No. 9), except for one and that is Austin Peay.
"We just have to keep playing, keep playing hard," Kayden said. "We will enjoy this this afternoon but get right back to business after that.
"I know they have to be motivated about playing tomorrow with these guys (UCLA and Duke). They just continue the theme they had all spring—not to worry about who were are playing against and all that other stuff outside of golf, they just go about their business. It is exactly what we did today.
"We have a long way to go in this tournament and that is the mindset we will take into tomorrow."
Box Score
| | | | |
| --- | --- | --- | --- |
| 1 | Team | R1 | Total |
| 1 | UCLA | 268 | 268 |
| 2 | Duke | 278 | 278 |
| 3 | Austin Peay State | 279 | 279 |
| T4 | Georgia | 280 | 280 |
| T4 | Texas A&M | 280 | 280 |
| T4 | North Carolina | 280 | 280 |
| T4 | Clemson | 280 | 280 |
| T4 | UCF | 280 | 280 |
| 9 | Vanderbilt | 283 | 283 |
| 10 | Arizona State | 284 | 284 |
| 11 | New Mexico State | 285 | 285 |
| 12 | Kennesaw State | 288 | 288 |
| 13 | Arizona | 292 | 292 |
| 14 | Lehigh University | 301 | 301 |
| | | | |
| | | | | | |
| --- | --- | --- | --- | --- | --- |
| | School – Players | Round 1 | | | Totals |
| 3 | Austin Peay State University | 279 | | | 279 |
| T 1 | Dustin Korte (2) | 64 | | | 64 |
| T 6 | Marco Iten (3) | 68 | | | 68 |
| T 4 | Anthony Bradley (1) | 73 | | | 73 |
| T 57 | Tucker Wallace (5) | 74 | | | 74 |
| T 67 | Chris Baker (4) | 77 | | | 77 |
| | | | | | |