Tempe, AZ – It was a bitter sweet day for Austin Peay State University men's golf team, Saturday. The Governors failed to qualify for the NCAA Championships but senior Dustin Korte did.
Korte shot a final-round 1-under 69 for a three-day 6-under 204 to finish eight individually at the Tempe Division I Golf Regional. He earned the NCAA Championship invitation, May 28th-June 2nd at the Capital City Club/Crabapple Course in Atlanta, GA, by recording the best individual score exclusive of the five qualifying regional teams.
As a result, he is the first Governor to qualify for the championship under the current NCAA Regional tourney format. He also is the first to represent the Ohio Valley Conference since current PGA tour member Scott Stallings did so in 2006. The late Craig Rudolph, a member of APSU's Athletic Hall of Fame, earned an NCAA Tournament invitation in 1987.
Korte's efforts were not enough to propel the Governors to a Top 5 finish. However, the Govs, who shot a final-round 6-over 286, recorded their best regional finish in program history with a seventh-place tie with Duke.
UCLA ran away with the tourney, shooting a 30-under 810. Georgia and Central Florida tied for second at 827 followed by Texas A&M (829) and host Arizona State (832). Those five teams, along with Korte, will advance to the NCAA Championships in Atlanta.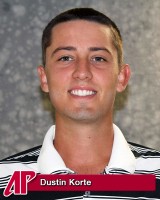 "It was a little bit disappointing today that we couldn't make that run," APSU Kirk Kayden said, "but when you think about what this team accomplished, it was phenomenal. We had our best finish in the NCAA (Regional) history of our program.
"The last two years have just been building to this. We had an amazing year, all the stats, the wins and the conference championship."
But it was their senior from Metropolis, IL, who led the way like he did much of the spring. Korte literally had to rub the sand out of his eyes for the 7:00am tee time. In fact, his second and third shots were not any indication of what kind of day he would end up having.
His second shot on the par 5, 500-yard No. 10 ended in the bunker left of the green. Normally one of the Govs best sand players, his third shot flew over the green and landed on a hill some 25 yards away from the pin. He eventually sank a 20-foot bogey putt to avoid further damage.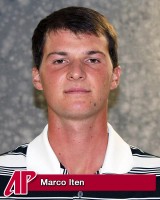 He then settled down to birdie four of the next seven holes to get to 3-under. However, his tee shot on 18 landed in the water, costing him two shots with the double bogey. But from there he was steady both off the tee and the greens, achieving pars on the next nine holes. Others challenging for that individual spot could maintain that same consistency, leaving Korte standing alone when the tourney was finished.
"I am so proud of Dustin," Kayden said. "He just played real solid golf all week long. He deals with adversity well and responds well to bad things. He putted well and hit the ball super all week.
"The thing about Dustin is he always steps up on the biggest stage. When you need someone to perform under high-pressure situations, he always does it. The bigger the tournament, the better he plays. It shows how competitive and how he can handle pressure situations. He proved that over and over this spring."
Korte admitted afterward he wasn't aware an individual could qualify until teammate Anthony Bradley mentioned it Friday night.
"I didn't come here as an individual, we came here as a team and I am disappointed that my teammates aren't going (to Atlanta)," Korte said. "It really hasn't hit me that I will be going—I didn't know anything about it until last night. I will do the best I can to represent these guys.
"These guys know they can do it next year, take that next step, even without me."
Entering Saturday, Korte and teammate Marco Iten were tied for that individual spot. Had they ended up in a tie, a playoff would have been staged. But that scenario never gained traction.
However, Iten, normally the Govs' best ball striker, could never find the groove off the tee and again could not gain any traction on the greens. After shooting two below-par rounds to open the tourney, he finished with a 2-over 72, Saturday. He tied for 13th with his 3-under 207.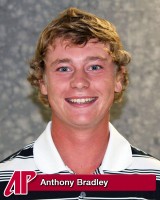 Fellow junior Anthony Bradley, who earned All-OVC with Iten and Korte, never could find his best golf, shooting back-to-back 72s after shooting an opening-round 73.  On Saturday, he failed to record a birdie while bogeying Nos. 16 and 4.
Freshman Chris Baker, who had a pair of 77s to open the tourney, owned a mixture of colors on his Saturday with four birdies, five double bogeys and one double bogey to end at 3-over 73. Sophomore played the back nine and 7-over but recovered on the front side to finish at 6-over 76.
Even though the Govs didn't advance to the NCAA Championships they far exceeded their 12th-place seed with the seventh-place tie. It also was APSU's highest regional finish of five tries. In addition, all three scores—279-285-286—represented the three best regional rounds in program history. In doing so, the Govs not only tied with Duke but beat two other ACC schools in North Carolina and Clemson. They also defeated Vanderbilt for the second time this season.
"Hopefully, the underclassmen got a taste of this and we can get back here," Kayden said. "They know they can do it. That sometimes is the difference.
"That certainly should serve as motivation for them heading into the summer."
Box Score
2013 NCAA SW Region
Courses
1
Karsten Golf Course:
2013 NCAA SW Region Hole 1 Par 70 – 7036 Yards
2
Karsten Golf Course:
2013 NCAA SW Region Hole 10 Par 70 – 7036 Yards
Current
Position
Team
Scoring
Rounds
Total
Score
to par
thru
today
1
2
3
1
-30
F
-11
268
273
269
810
T2
-13
F
-7
280
274
273
827
T2
-13
F
-5
280
272
275
827
4
-11
F
-8
280
277
272
829
5
-8
F
-6
284
274
274
832
The top 5 teams advance to the Championship


(Ties will be resolved.)

6
E
F
-4
285
279
276
840
T7
+10
F
+12
278
280
292
850
T7
+10
F
+6
279
285
286
850
9
+12
F
+11
280
281
291
852
T10
+14
F
+5
283
286
285
854
T10
+14
F
-4
288
290
276
854
T12
+19
F
+5
280
294
285
859
T12
+19
F
+11
292
276
291
859
14
+52
F
+16
301
295
296
892
| | | | | | |
| --- | --- | --- | --- | --- | --- |
| Currently | School – Players | Round 1 | Round 2 | Round 3 | Totals |
| T 7 | Austin Peay State University | 279 | 285 | 286 | 850 |
| 8 | Dustin Korte (2) | 64 | 71 | 69 | 204 |
| T 13 | Marco Iten (3) | 68 | 67 | 72 | 207 |
| T 47 | Anthony Bradley (1) | 73 | 72 | 72 | 217 |
| T 66 | Tucker Wallace (5) | 74 | 75 | 76 | 225 |
| T 71 | Chris Baker (4) | 77 | 77 | 73 | 227 |
| | | | | | |