Hunter Morris Homers Twice, Caleb Gindl Plates Four In Nashville's Best Offensive Output Of Season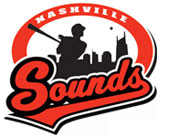 Salt Lake City, UT – Hunter Morris belted a pair of home runs, Caleb Gindl went 4-for-5 with four RBIs, and Zach Kroenke turned in his best start of the year to lead the Nashville Sounds to an 11-0 victory over the Salt Lake Bees on Saturday evening at Spring Mobile Ballpark.
Nashville (12-28) set a new season high with 17 hits and matched its season best for runs scored in recording its third shutout win of the season.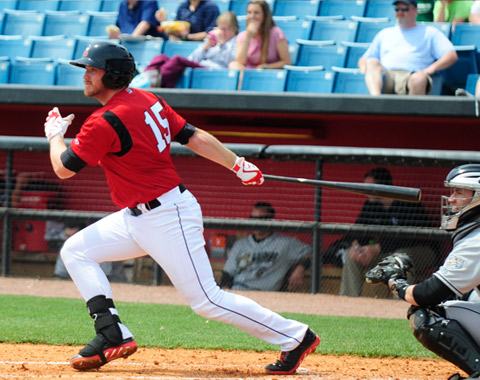 Morris — in his first game back with Nashville following a weeklong stint on the disabled list due to a concussion — showed no rust from his hiatus, producing his second two-homer effort of the season (and fifth of his career) and driving in four runs in the contest with a 3-for-4 effort that included three extra-base hits.
Gindl (4-for-5), who missed the cycle by a triple, contributed a two-run homer and two-run double as he drove in a season-high four runs.
Kroenke (1-6) snapped a season-opening six-game skid with his first quality start of the year. The left-hander  scattered six hits over 6 1/3 scoreless frames that included a string of 11 consecutive batters retired. Each of his four strikeouts ended innings.
Donovan Hand followed Kroenke with 1 2/3 scoreless frames before Rob Wooten closed out Nashville's largest shutout win since a 19-0 whitewash of Colorado Springs on August 4th, 2011.
After the teams played scoreless ball over the first three innings, Gindl put the Sounds on the board in the top of the fourth by hammering a two-run homer to right off Bees starter Matt Shoemaker. Josh Prince, who opened the inning with a single, also scored on the roundtripper, Gindl's fourth of the year.
Khris Davis followed the longball with a single and Morris drilled a double off the center field wall, but the Salt Lake defense executed a perfect relay to gun down Davis at the plate. On the play, shortstop Andrew Romine made a barehanded catch-and-throw on former Sound Trent Oeltjen's one-hop toss from center to retire Davis on a bang-bang play.
Morris continued his solid evening in the sixth when he slugged his fifth home run of the year, a towering solo shot to right off Shoemaker that stretched the lead to 3-0.
The Sounds put the game out of reach in the seventh with a five-run frame to extend the lead to 8-0.
Gindl continued his big night when he smashed an opposite-field, two-run double to left-center to chase Shoemaker and extend the Nashville lead to 5-0. Hainley Statia and Scooter Gennett, who each singled earlier in the frame, both scored on the knock, which gave Gindl a season-high four RBIs on the evening.
Following Khris Davis' second walk of the night, Morris went deep again, belting a three-run big fly down the line in right off Bees reliever David Carpenter. The two-out blast gave him his fourth career multi-homer effort as well as the outright team lead with six roundtrippers this season.
Salt Lake's best scoring chance came in the seventh when the Bees put runners on second and third with one out against Kroenke, but Hand was summoned to the hill and escaped the jam unscathed by retiring the next two hitters to keep the shutout intact.
Nashville closed out its scoring in the eighth, plating three runs off Carpenter to make it an 11-0 game. Prince hit an RBI single and the Sounds loaded the bases before Carpenter uncorked consecutive wild pitches to allow a pair of runs to score. Nashville re-loaded the bases once again but Blake Lalli (0-for-5, the lone Sound to not reach base in the game) popped out to end the frame with no further damage done.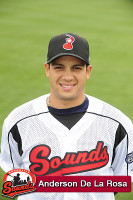 A pair of streaks were extended for the Sounds in the victory. Catcher Anderson De La Rosa went 2-for-5 to run his season-best hitting streak to nine games and third baseman Stephen Parker singled in the ninth inning to extend his on-base streak to 19 consecutive games.
Shoemaker (3-6) suffered his league co-leading sixth loss of the year for the Bees after giving up six runs on 10 hits over 6 2/3 frames.
The Sounds will look to secure their first winning series of the year when the teams wrap up the four-game set with a 2:05pm CT finale on Sunday afternoon. Right-hander Frankie De La Cruz (1-5, 7.94) will start for the Sounds and face Salt Lake right-hander Jarrett Grube (0-0, 0.00).
Box Score
Nashville Sounds (12-28) 11, Salt Lake Bees (20-23) 0
May 18th, 2013
| Final | 1 | 2 | 3 | 4 | 5 | 6 | 7 | 8 | 9 | | R | H | E |
| --- | --- | --- | --- | --- | --- | --- | --- | --- | --- | --- | --- | --- | --- |
| Nashville Sounds | 0 | 0 | 0 | 2 | 0 | 1 | 5 | 3 | 0 | | 11 | 17 | 2 |
| Salt Lake Bees | 0 | 0 | 0 | 0 | 0 | 0 | 0 | 0 | 0 | | 0 | 6 | 0 |
BATTING
2B: Morris, H (7, Shoemaker), Gindl (10, Shoemaker).
HR: Gindl (4, 4th inning off Shoemaker, 1 on, 0 out), Morris, H 2 (6, 6th inning off Shoemaker, 0 on, 1 out; 7th inning off Carpenter, D, 2 on, 2 out).
TB: Prince 2; De La Rosa, A 2; Parker, S; Gennett 2; Davis, K; Morris, H 10; Gindl 8; Statia 2.
RBI: Gindl 4 (24), Morris, H 4 (17), Prince (4).
2-out RBI: Gindl 2; Morris, H 3; Prince.
Runners left in scoring position, 2 out: De La Rosa, A; Gindl; Lalli 2; Prince 2.
GIDP: Parker, S.
Team RISP: 4-for-12.
Team LOB: 9.BASERUNNING
SB: Gennett (6, 2nd base off Shoemaker/Hester).FIELDING
E: Parker, S (8, throw), Statia (2, throw).
Pickoffs: Kroenke (Romine, A at 1st base).
BATTING
2B: Long, M (1, Kroenke), Hawpe (7, Kroenke).
TB: Navarro, E; Hawpe 2; Hall; Romine, A; Long, M 2; Lopez, R.
Runners left in scoring position, 2 out: Hawpe; Swift 3; Navarro, E; Long, M.
Team RISP: 1-for-9.
Team LOB: 7.BASERUNNING
CS: Romine, A (1, 2nd base by Kroenke/De La Rosa, A), Hester (1, 2nd base by Kroenke/De La Rosa, A).
PO: Romine, A (1st base by Kroenke).FIELDING
Outfield assists: Oeltjen (Davis, K at home).
DP: (Hall-Navarro, E).
Nashville Sounds
Player
IP
H
R
ER
BB
SO
HR
ERA
Zach Kroenke (W, 1-6)
6.1
6
0
0
1
4
0
5.75
Donovan Hand
1.2
0
0
0
0
3
0
2.84
Rob Wooten
1.0
0
0
0
1
2
0
1.31
Totals
9.0
6
0
0
2
9
0
4.79
WP: Carpenter, D 2.
HBP: Prince (by Shoemaker).
Pitches-strikes: Kroenke 90-52, Hand, D 18-14, Wooten 27-17, Shoemaker 98-64, Carpenter, D 37-14, Cabrera 17-12.
Groundouts-flyouts: Kroenke 7-4, Hand, D 1-1, Wooten 1-0, Shoemaker 7-5, Carpenter, D 2-0, Cabrera 1-0.
Batters faced: Kroenke 25, Hand, D 5, Wooten 4, Shoemaker 30, Carpenter, D 12, Cabrera 5.
Inherited runners-scored: Hand, D 2-0, Carpenter, D 1-1.
Umpires: HP: Tom Woodring. 1B: Gerard Ascani. 3B: Joel Hospodka.
Weather: 62 degrees, partly cloudy.
Wind: 7 mph, Out to RF.
T: 3:11.
Att: 8,933.