Greenboro, NC – Freshman Breigh Jones qualified for Friday's 400m quarterfinal after posting a school-record 53.75 mark, Thursday, in the opening round of the NCAA East Preliminaries, hosted by North Carolina A&T.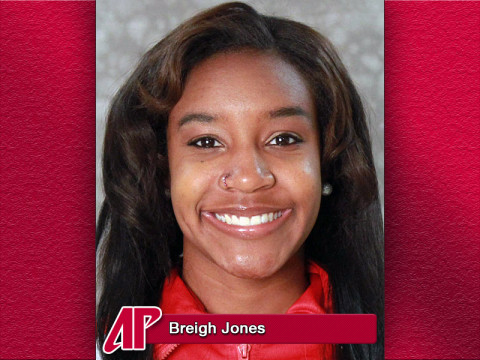 The Memphis native obliterated her previous best time of 54.44 and qualified 22nd for Friday's quarterfinal, scheduled to begin at 6:00pm (ET).
In addition to defeating five of the region's top 30 400m runners, including Florida State's Elizabeth Ichite in her heat, Jones defeated an Ohio Valley Conference foe in Eastern Kentucky's Bianca Forbes on her way to the quarterfinal. It will be the first quarterfinal appearance for an Austin Peay athlete since the NCAA Track and Field Championships moved to this format.
Jones is one of only six freshmen to advance to the quarterfinals in the East preliminary round. She seeks to become Austin Peay's first NCAA Championship qualifier.
"She was right there the whole race," said head coach Doug Molnar. "It was an absolutely outstanding run. For a freshman to do that is almost unbelievable."
Senior Chantelle Grey, in her second NCAA Preliminary competition, saw her career come to an end in Thursday's 800m opening round. Grey finished 39th with a 2:09.30 mark, four spots ahead of her 2012 finish. Grey defeated three top-30 runners before bowing out of competition.
"It's unfortunate, because Chantelle ran a very smart race," Molnar said. "Her heat didn't get out fast, but she made the right moves and was there in the last 100 meters. She just didn't have the legs to finish it off today."