Des Moines, IA – Rising sophomore Breigh Jones, of the Austin Peay State University track and field team, placed fifth in the finals of the United States Junior Outdoor Track and Field Championships June 22nd at Drake Stadium, lowering her personal-best to 53.26.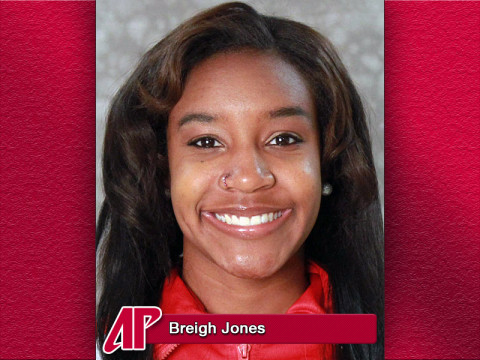 Jones now goes in a pool of qualifiers from the 200m, 400m and 800m events hoping to be chosen to represent Team USA in the 4x400m relay at the 2013 Pan American Junior Games, Aug. 23
rd
through Aug. 25th in Medellin, Colombia. A decision is expected to be reached no later than June 23rd.
If chosen, Jones would become the fourth Austin Peay athlete to earn a spot on a national team since the beginning of 2012 – Jordan Hankins represented the Govs with USA Baseball in the summer of 2012 while Tatiana and Natalia Ariza played for their native Colombia in the 2012 London Olympics.
Jones would be the first Austin Peay track and field athlete to qualify for the Pan Am games.
Coming out of Lane Three, Jones was sandwiched between top finisher Courtney Okolo of Texas and Shamier Little. Okolo and Kendall Baisden took the top two spots in the event.
"She opened with a strong first 200 meters by her standards," said Austin Peay assistant coach Valerie Brown. "The other athletes really pushed the pace, but she kept up. She really put together two strong races this weekend; as a coach, it was very encouraging to see her set another personal-best in the finals."