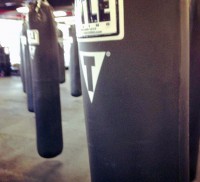 Clarksville, TN – Yesterday I noticed a crazy phenomenon at the gym. The folks who are not in the best shape try really hard to keep up with the instructor and other folks who are in great shape. On the surface this is a great thing. The positive peer pressure motivates some to dig harder than they ever thought they could.
But, it can also be discouraging.
See, try as they might, the 45 year old housewife who has never worked out a day in her life will never be 21 again. The 39 year old dude with the beer belly will never be 18. Crunches  don't turn back the clock.
Can those folks  lose weight and get in great shape? Absolutely!
However, the best they can ever be is the best version of themselves. I literally saw folks give up because they couldn't do a routine exactly like  the instructor. Instead of adapting the exercise to fit their current level of fitness and shape, some just stopped moving altogether.
I'm convinced that by trying to keep up with the "super-fit", they may actually doing more harm than good.
I believe that the best thing to do is pace yourself. Remember your goals. Don't try to be someone that you are not. Try to be a better you, but don't try to be a copy of someone else. It never works. Those principles not only apply to fitness, they also apply to just about every area of your life.
Who are you trying to keep up with?