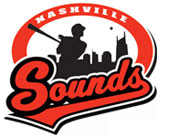 Memphis, TN – Left-hander Chris Narveson turned in a magnificent outing and was backed by a 13-hit attack that included three homers as the Nashville Sounds defeated the Memphis Redbirds, 7-0, in front of a capacity crowd of 12,664 on Thursday evening at Auto Zone Park.
The victory was the fourth in the past five games for Nashville (32-56), which improved to 6-3 this season against its cross-state division rivals. It was the Sounds' fifth shutout victory of the season.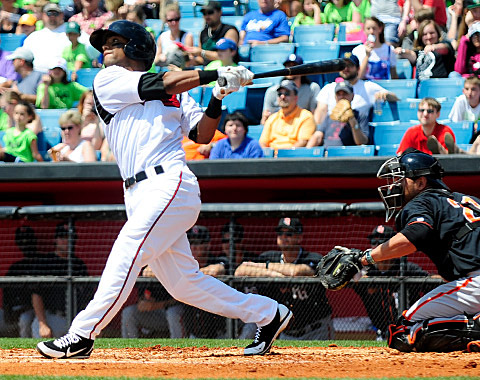 Narveson (2-4) was locked in all evening, holding Memphis to three hits over a Sounds season-high eight scoreless innings of work. He struck out a season-high seven batters (six looking) while walking three during his 100-pitch effort. The southpaw retired 15 consecutive batters from the second through the seventh, the longest such string by a Nashville hurler this season.
Kyle Heckathorn closed out the three-hit shutout with a perfect ninth.
Nashville got a hit from all nine members of its lineup and belted three home runs for the second straight night.
The Sounds got off to a quick start against Memphis starter Scott McGregor, plating a pair of runs with four singles in the top of the first inning.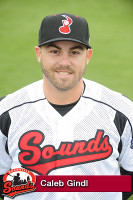 Josh Prince and Caleb Gindl reached on consecutive one-out knocks before each runner later scored on RBI singles off the bats of Hunter Morris and Stephen Parker. Gindl's single extended the outfielder's hitting streak to a season-best seven games (11-for-26, .423).
Shortstop Blake Davis upped the lead to 3-0 in the second with a leadoff homer to right, his first longball in 256 at-bats dating back to last August. Chris Narveson followed with a double to left and later scored on a wild pitch to make it a 4-0 contest.
Khris Davis continue his recent hot hitting for the Sounds with a leadoff solo homer to left in the third inning, his 11th big fly of the year and second in as many nights. The outfielder has hit safely in eight of his last nine contests at a .375 clip (12-for-32) with eight extra-base knocks over that stretch.
McGregor (2-5) drew the loss for Memphis after giving up five runs on seven hits in four innings of work.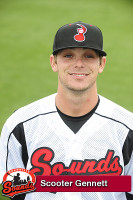 Catcher Robinzon Diaz, another Sound swing hot lumber of late, joined the longball party in the sixth when he belted a two-run homer to right off Redbirds reliever Victor Marte to make it a 7-0 contest. Diaz is batting .357 (15-for-42) while hitting safely in 10 of his last 11 contests.
Scooter Gennett continued his hot hitting for Nashville with a 2-for-5 evening. He has hit safely in all nine games since rejoining the Sounds at a .412 clip (14-for-34).
The cross-state rivals continue the series with a 7:05pm meeting on Friday. Nashville sends left-hander Zach Kroenke (4-10, 4.29) to the hill to square off against Memphis right-hander Carlos Martinez (2-2, 2.02).
Box Score
Nashville Sounds (32-56) 7, Memphis Redbirds (41-47) 0
July 4th, 2013
1
2
3
4
5
6
7
8
9
R
H
E
Nashville Sounds
2
2
1
0
0
2
0
0
0
7
13
0
Memphis Redbirds
0
0
0
0
0
0
0
0
0
0
3
0
BATTING
2B: Narveson (2, McGregor).
HR: Davis, B (1, 2nd inning off McGregor, 0 on, 0 out), Davis, Kh (11, 3rd inning off McGregor, 0 on, 1 out), Diaz, R (1, 6th inning off Marte, V, 1 on, 0 out).
TB: Narveson 2; Diaz, R 5; Prince; Gennett 2; Parker, S 2; Davis, B 4; Davis, Kh 4; Morris, H 2; Gindl.
RBI: Morris, H (43), Parker, S (23), Davis, B (21), Davis, Kh (28), Diaz, R 2 (3).
2-out RBI: Parker, S.
Runners left in scoring position, 2 out: Diaz, R; Prince.
GIDP: Davis, Kh.
Team RISP: 3-for-8.
Team LOB: 7.BASERUNNING
SB: Prince (10, 2nd base off McGregor/Tartamella).FIELDING
DP: 2 (Davis, B-Gennett-Morris, H, Parker, S-Gennett-Morris, H).
a-Struck out for Marte, V in the 6th. b-Walked for Freeman, S in the 8th.
BATTING
TB: Jackson, R; Peterson; Pham.
Runners left in scoring position, 2 out: Huffman; Wong.
GIDP: Romak, Huffman.
Team RISP: 0-for-5.
Team LOB: 5.FIELDING
PB: Tartamella (2).
DP: (Jackson, R-Wong-Peterson).
Nashville Sounds
Player
IP
H
R
ER
BB
SO
HR
ERA
Chris Narveson (W, 2-4)
8.0
3
0
0
3
7
0
5.35
Kyle Heckathorn
1.0
0
0
0
0
1
0
3.72
Totals
9.0
3
0
0
3
8
0
4.29
WP: McGregor.
Pitches-strikes: Narveson 100-59, Heckathorn 17-12, McGregor 75-50, Marte, V 36-27, Freeman, S 36-25, Rondon, J 11-6.
Groundouts-flyouts: Narveson 7-7, Heckathorn 0-1, McGregor 4-4, Marte, V 1-2, Freeman, S 0-1, Rondon, J 1-1.
Batters faced: Narveson 29, Heckathorn 3, McGregor 20, Marte, V 9, Freeman, S 9, Rondon, J 3.
Umpires: HP: Adam Schwarz. 1B: Hal Gibson III. 3B: Brian Hertzog.
Weather: 86 degrees, partly cloudy.
Wind: 10 mph, In from CF.
T: 2:40.
Att: 12,664.
Venue: AutoZone Park.
July 4, 2013